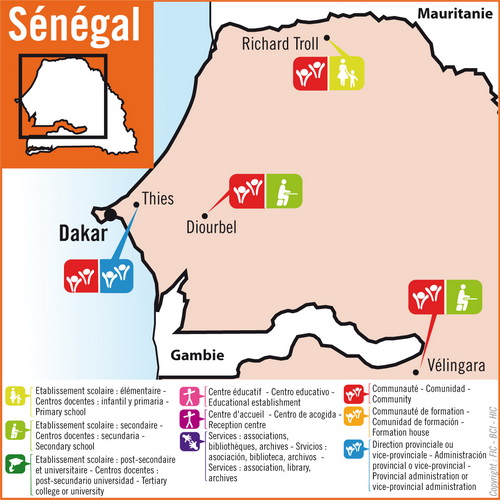 Towns: Diourbel – Thiès – Velingara
DIOURBEL
Frères de Ploërmel
Collège Paul VI
B.P.20
DIOURBEL
C : ficdiourbel@yahoo.fr
THIES
Communauté des Frères Keur «La Mennais»
BP 3306
THIES
C: ficao@orange.sn
VELINGARA
Frères de Ploërmel
Collège Jean-Paul II
B.P. 7
VELINGARA , Sénégal
C : ficjp2@yahoo.fr
---
Yesterday…
After a first stay from 1841 to 1904, the Brothers came back in 1967, opening Didier-Marie College in Saint-Louis. They gave the management of the college to lay people in 2001.
The Brothers ran also the Primary school in Richard-Toll, today managed by the Diocese.

Today
Diourbel : The community animates Paul VI's College, a boarding school , a formation house and a network of bush schools.
Vélingara : The community animates Jean-Paul II's College.
At Thiès, the Brothers run a Youth Reception Centre.