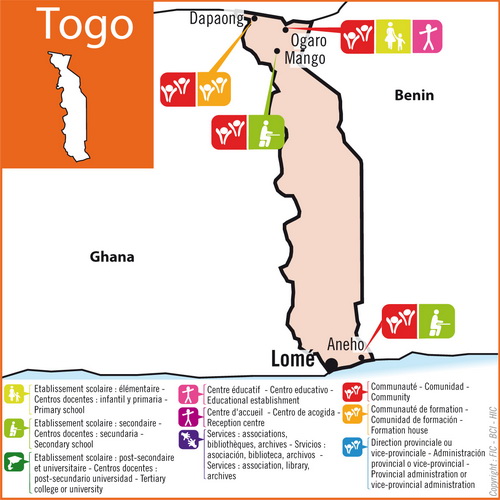 Towns : Dapaong – Aneho – Lome – Mango – Ogaro
ANEHO
Frères de l'Instruction Chrétienne
BP 29
ANEHO
C: mapayenebenoit@yahoo.fr
DAPAONG
Frères de l'Instruction Chrétienne
Noviciat
BP 09
DAPAONG
TOGO
C: ficnada@yahoo.fr
LOMÉ
Frères de l'Instruction Chrétienne
38 rue Kpegbadja
03 BP 30911
Quartier WUITI
LOMÉ
C : ficlome@yahoo.fr
MANGO
Frères de l'Instruction Chrétienne
BP 01 MANGO
C : kombatekoffi@yahoo.fr
OGARO
Frères de l'Instruction Chrétienne
CARTO d'Ogaro
BP 09 – DAPAONG
C : cartogaro@gmail.com
---
Ogaro
It is in this village in the Savannah region of Northern Togo that the Brothers chose to set up in 1982. The arrival of the Brothers led real revolution in the agricultural field: training of farmers for harnessed cultivation, and introduction of new crops. If one Brother, with the cooperation of Togolese lay people takes care of the whole agricultural training, two others are engaged in village schools. School management, training and pedagogical follow-up of teachers, and constructions, are all tasks performed by this community. Gradually, the village schools are returned to the State; the Brothers kept only one school that has become JMLM School at Battebangbang.
In 2018, a secondary achool is added to the primary section, called : "Complexe scolaire La Mennais" of Battebangbang.
Dapaong
Since 1985, a community has lived in this city in Northern Togo. The Brothers are involved in the animation of a Catholic High School under the supervision of the Lassalian Brothers, in Catholic movements and in vocational groups. Today, the Noviciate of Saint-Paul District of Western Africa is located in the heart of this city, characterised by the presence of very many young Christians and catechumens.
Aného
The Saints-Pierre-et-Paul High School is located in the former capital of Togo. The Brothers took charge of this school in 1994.
Lomé
Since 2002, a house was constructed in Lomé to serve as a residence for young student Brothers. It has also become the Visitor's house.
Mango
In September 2005, Mgr Hanrion School was opened in Northern Togo