Towns: Babati – Dar Es Salaam – Duluti Arusha – Mbeya – Moshi – Nzega – Rombo
BABATI
Community
Singe Secondary School
PO Box 77 BABATI
C : kihaumbij@gmail.com
DAR ES SALAAM

Mbagala Community
St. Anthony's Secondary School
Mbagala
PO Box 1430
DAR ES SALAAM
C: smbagala@yahoo.com
DULUTI
Dulutti Secondary School
P O Box 53
DULUTI ARUSHA
C : protasemangu@yahoo.com
MBEYA
Pandahill Secondary School
PO Box 6233, MBEYA
T : (255) 787 035 971
C : james_lusanika@yahoo.com
MOSHI
Brothers' Centre
Mabruda Street, Karanga
PO Box 166
MOSHI
C: deosanya@yahoo.com
NZEGA
Community Uchama
St. Justin Senior Secondary School
Uchama
PO Box 190
NZEGA Tabora
C : uchamastjsch75@yahoo.com
ROMBO
Kilimanjaro Boys' High School
PO BOX 34
MKUU-ROMBO
C ficrombo@yahoo.com
---
Since 1931, starting with a school at Yala, the Canadian missionary Brothers emigrated to Kenya, and since 1948 to Tanzania.
In 1972, the District of Kenya-Tanzania became a Vice-Province of Uganda ; and in 2009 it became a Province, named "Saint-Michael-the-Archangel Province".
Today there are about 40 Kenyan and Tanzanian Brothers.
TANZANIA
DAR ES SALAAM, since 1967, MOSHI, since 1979, have two important Secondary schools run by the Brothers. They run a Vocation traing school in Moshi too.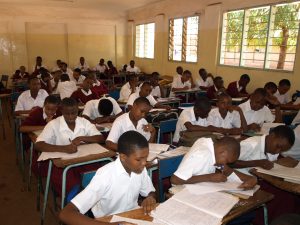 At BABATI, the arrival of the Brothers at the Secondary School of Singe in 2001, occasioned an increase of the student population.
A little more to the West, the Brothers took charge of a Secondary School at NZEGA, while the community of Duluti, near ARUSHA, gave up a coffee plantation and built a Secondary School for the young people living in the neighbourhood.
In 2010, the new Province of St Michel the Archangel took charge of two new Secondary Schools, one in Rombo in the Diocese of Moshi, and the other one in Mbeya in the Southern part of the country.importants dirigés par les Frères.