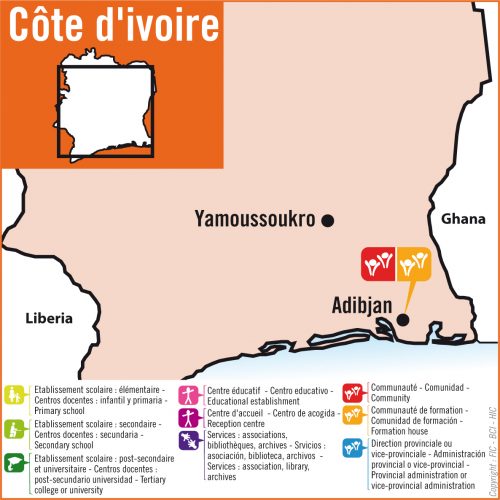 Towns: Abidjan
ABIDJAN
Communauté Jean de la Mennais
RIVIERA-PALMERAIE
BP 333
ABIDJAN-RIVIERA Cidex 03
Courriel: alphonse.sim25@gmail.com
Communauté Gabriel Deshayes
Riviera-Coteaux
BP 333
ABIDJAN RIVIERA Cidex 03
Courriel: cg.deshayes@yahoo.fr
---
Different dimensions constitute the life in the Scholasticate: spiritual life, community life, academic life, Mennaisian and pastoral life. One of the daily concerns of the Brother Scholastics is undoubtedly the studies at the CELAF (African Lasallian Centre), which is a Higher Institution of Educational and Religious Sciences, in short ISSPR.
The pastoral is one of the four dimensions of the life at the scholasticate. Its aim is to prepare the Brother Scholastics for their apostolic mission in the active life. The places of the pastoral ministry are the community, the catecheses, the M.E.J (Eucharistic Movement of Young people).
The Scholasticate of Abidjan includes the young Brothers in formation coming from West Africa, DRC Congo and Haiti.