Province of Saint Teresa
www.bcikisubiuganda.org
Villes : Buhungiro – Bukuumi – Ibanda – Kabojja – Kakooge – Kambuga – Kampala – Kasasa – Kisubi – Kitovu – Makerere – Mubende – Nebbi – Nkozi – Rubaga
BUHUNGIRO
Community
Buhungiro Primary Teacher's Trainig College
PO Box 150
ISINGERO
C : buhungirofic@gmail.com
BUKUUMI
Community
Saint Edwards'S Secondary School
PO Box 507 Kakumiro
BUKUUMI
C : jfnjogerere@gmail.com
IBANDA
Community
St John Fisher Ibanda Secondary School
PO Box 102
IBANDA
C : bakesiima17@gmail.com
KABOJJA
Community
Mugwanya Preparatory School Kabojja
PO Box 30389
KAMPALA
C : rtumwesigye@yahoo.com
KAKOOGE
Community
Saint Jude Primary School
PO Box 228
KAKOOGE-Luweero
C : twongyeirwevianney@yahoo.com
Community
Saint John Paul II Technical School
PO Box 283
KAKOOGE-Luweero
C : kiizajoseph@yahoo.com
KAMBUGA
Community
Bishop Comboni College
PO Box 212
Rukungiri
C : byekwaso10@gmail.com
KASASA
Novitiate
John Mary Muzeeyi Novitiate
Po Box 1269
Masaka
C : franklinrukundo@gmail.com
KASASA
Saint Charles-Lwanga Secondary School
PO Box 1269
Masaka
C : ahimbisibweglorian@yahoo.com
KISUBI
Scholasticate
Br Charles Jules Poitras Scholasticate
PO Box 33
Kisubi
C : gerard_byaruhanga@yahoo.com
Provincial House
Alphonsus Zayera Community
PO Box 50
Kisubi
C : superior_uganda@yahoo.com
Kisubi University (UNIK)
Aloysius Lutaaya Community
PO Box 182 ENTEBBE
C : katusiime.denis@yahoo.co.uk
Mount St. Teresa Community
PO Box 50
Kisubi
C : kafiire@yahoo.co.uk
Postulate
PO Box 25
Kisubi
C : kdominic7200@gmail.com
Saint Savio Junior School
PO Box 10
Kisubi
C : jmukwana@yahoo.com
St' Mary's College
Kisubi
PO Box 26
Kisubi
C : bropius@gmail.com
KITOVU
Community
Saint Henry's College
PO Box 64
Masaka
C : lubegandrw@gmail.com
MAKERERE
Community
La Mennais House
P0 Box 16108
Kampala
C : twinocent3@gmail.com
MUBENDE
Community
St Charles Lwanga Sec School
PO Box 30
Mubende
C : crescentruhondeeza@gmail.com
NEBBI
Community
Nebbi PO Box
C : angoakoalbert@gmail.com
NKOZI
Community
Uganda Martyrs
Nkozi PO Box
5498 Kampala
C : aloysiusbyaruhanga49@gmail.com
RUBAGA
Community
PO Box
30074 Kampala
C : kitengejja@gmail.com
---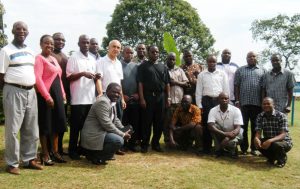 On August 4, 1926, four Canadian Brothers arrived at Entebbe. It is the beginning of the FIC work in Uganda.
90 years have passed and the Canadian Brothers who founded the Province, left many years ago and they ceded it to the Ugandan Brothers, numbering 170 today. They manage and animate Primary Schools , Secondary Schools, as well as a full-fledged University University of Kisubi (Unik) with specialisations in education, arts, economics and sciences.
KISUBI
Mount Saint Teresa, Kisubi, is the heart and headquarters of the Province. We can see there:
St.Mary's College, a renowned Secondary School ;
Two Primary schools, Savio, and Kisubi Boys ;
The Postulate and the Scholasticate (at a stone's throw);
The University and a series of residences and administration buildings for the Brothers and the Provincial.
A few kilometers from there, near Lake Victoria, stands a reception and recreation Centre, the Nabinoonya Resort Beach.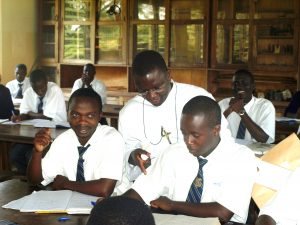 A young Province.
The Noviciate at Kasasa continues to receive every year the aspirants from Uganda, Rwanda, Tanzania and Kenya. About 40 Brothers have taken temporary vows. The Scholastics continue their religious ad pedagogical formation in relation with the University.
Consequently, the Province can open new communities and can take in charge new schools.
The Province has just founded a new mission in the South Sudan in July 2013.