District St. Jean-Paul II – Afrique Centrale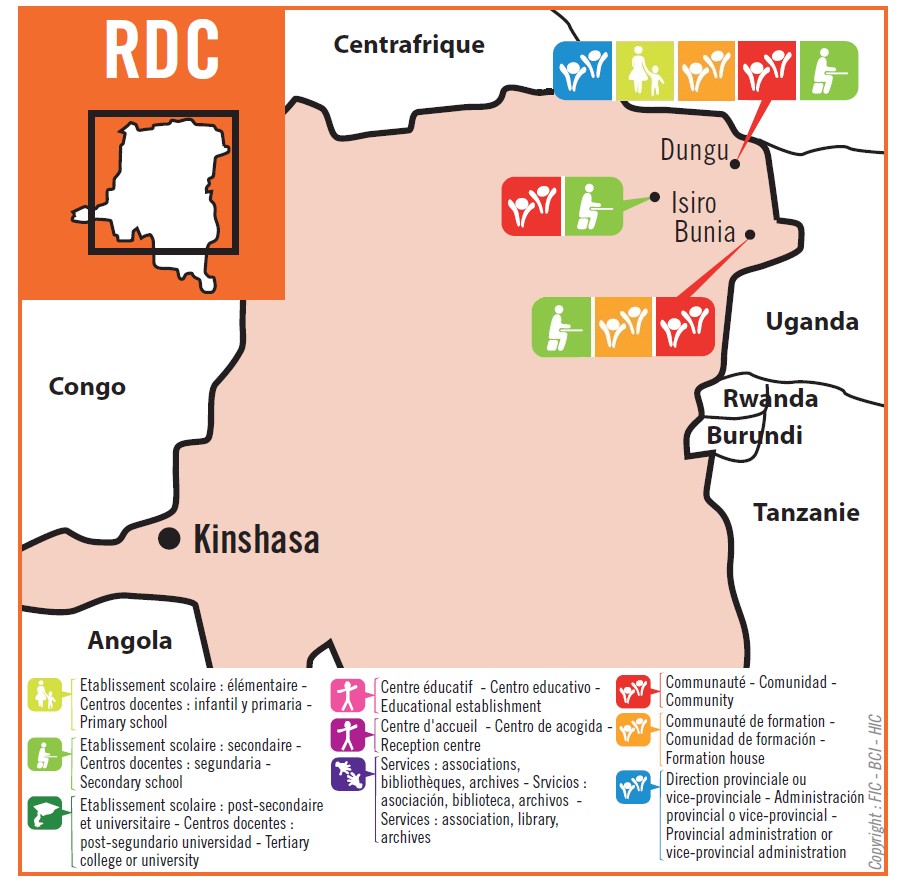 Villes : Bunia – Dungu – Isiro
BUNIA
Communauté F.I.C.
B.P. 19 BUNIA
C: gbiro80@gmail.com
DUNGU
Communauté FIC  et Juvénat
BP 20 DUNGU (via ISIRO
P.O. BOX 17 KISUBI    UGANDA
C : gumeagitir@hotmail.com
ISIRO
Communauté FIC
B.P. 320 ISIRO
PO BOX 17 , KISUBI, Uganda
T: (243) 081 200 1205
C: jeanticro@yahoo.fr
KINSHASA
Communauté FIC Bibwa/Kinshasa
Boulevard Lumumba, 12
Quartier Two Ngamayo
Commune de la N'Sele
KINSHASA
C : frerefido@yahoo.com
---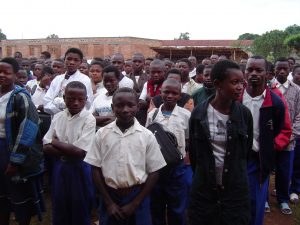 Yesterday
 On August 30th, 1969 the first four Canadian Brothers arrived in Congo Zaire in the diocese of Dungu Doruma. At DUNGU The Brothers are involved in a Secondary School, the Wando Institute, in the Minor Seminary and in the diocesan co-ordination of schools. In 1975, they founded a Juniorate which benefits from classes given at Wando Institute.
In 1972 the Brothers settle at BANGADI and  work part-time at Bafuka Institute, a Secondary School, and especially at the Catechism Formation Centre.
In 1977 new foundation at POKO: next to the Institute Bakengaie, a Secondary School, the Brothers manage a woodwork Training Centre.
Then in 1985: A community is opened at Bunia, to ensure the theological formation of young Brothers (Scholasticate). In 1994, this Scholasticate is transferred to Kinshasa in a house rented by the diocese of Dungu. This house of formation was closed in 1997 because the young Brothers are going to follow their formation, at the CELAF (Lassalian Francophone Centre) in Abidjan, with their Brothers from the West.
Mobutu's fall in 1997 caused chaos throughout the country. The Canadian Brothers are repatriated; the young Zairian Brothers and aspirants take care of the residences.  A continuous improvement of the situation of the country allows then the gradual return of the Canadian Brothers and the resumption of the school and apostolic activities.
On August 30, 1969: arrival of 4 Canadian brothers in Congo-Zaire.
Today
The Congolese Brothers are established:
At DUNGU where they manage the Wando Institute (diocesan secondary school) and the Raymond Hamelin School complex (new Primary and Secondary School of the Congregation). The Juniorate, entirely rebuilt, continues its mission of awakening and supporting vocations.
At ISIRO the Brothers are in charge of the St Rosaire Institute (diocesan Secondary School). A new plot of land was bought near the school and a community is under construction to accommodate the Brothers involved in the Secondary sector.
The community of BUNIA has three missions: it welcomes the student Brothers of the District, the Postulate of the Congolese sector and also serves to welcome the Brothers who pass by to travel towards Uganda. A vast piece of land was bought near the airport and the Jean-Marie de la Mennais School complex (school of the congregation) is being built gradually. The school started with the classes of the Secondary sector. Today a Primary school has been included. A new community is planned for a new community of Brothers.
In September, 2016, a plot of land and a house were bought in KINSHASA. This residence will have to serve at first to welcome the Brothers who study in the capital city and the Brothers who will come for shopping, administrative business or travelling. The management of a school will be possible later.