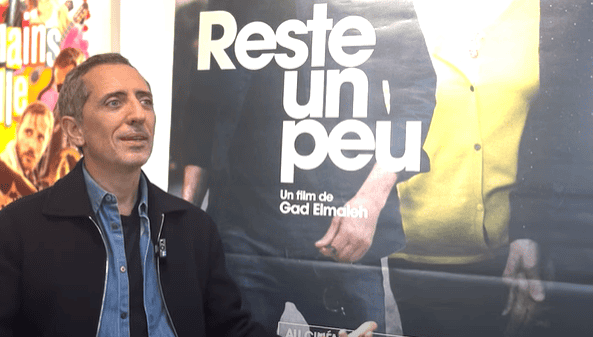 Comedian, film producer, actor… Born in Morocco, of Jewish faith, Gad Elmaleh confesses to have been challenged since childhood by the dimensions of the sacred. His parents had forbidden him to enter a Church as a child. Since then, following meetings and important events in his itinerary, he has wanted to explore in depth his relationship to Religious issues. «Reste un peu» is the film he just signed in last November, with more than 500,000 admissions. He tells the place of the Virgin Mary in his journey and the challenge that the Catholic faith raises in his life. He is also the producer of the Musical show «Bernadette de Lourdes». Guest of the International Catholic Media Federation in Lourdes, France, on January 26th  – where we were present for La Mennais Click Infos, La Mennais Magazine and the Website of the Congregation and the Mennaisian Family, www.lamennais.org  – , interviewed by Youna Rivallain of the Newspaper La Vie, he delivered himself with naturalness, finesse and direct expression. Here we go!
The perfect woman… and Lourdes. "Mary is the perfect woman for you. You don't live together and she leaves you quiet!" In the film, the Artist's sister gives him this uncompromising apostrophe! "In Lourdes, I received a kind of confirmation that Mary was very present in my life, that she was there. I find a lot of peace here."
A crisis of faith. I live an intimate and personal experience with the crisis of the fifties. In France they don't like to use the word Religious, they say I am spiritual. There is a tradition of not assuming oneself Catholic. They are you, Catholics, who maintain this. Assume what you are! You can be cool and live a «normal» life. Why be afraid of the Catholic label?"
"I didn't choose". "Pope Francis, whom I met at the end of December, told me about my journey: you didn't choose! And that's true. And I was very touched, and he told me as he grabbed my arm, "I'm counting on you to pray for me."
"I am no longer afraid of having no answer!" "What I understood from God and from myself in making this film is this need to deepen. Reading and searching does not give an answer and that worried me. I come from the Jewish tradition, but I am no longer afraid of having no answer. I am comforted in this quest for deepening and this is appeasement. It is in this sense that here in Lourdes I come to express my gratitude to the Virgin Mary. I feel free and happy. I am making a real journey towards Christianity with interest, perplexity and annoyance. Baptism which can be a perspective is not an end in itself, it is a passage, a starting point, it is not a Club with a card!"
"Dialogue with other religions is concrete and lived every day." "This dialogue is too much seen as a concept. It actually goes through experience, Fraternity of everyday life. This dialogue is not a posture. In Morocco, my country of origin, we lived together. Yes, there were tensions and also connections. To do this you must know each other. I broke the law and chose to go to a Church and talk to others, when my Religion forbade it. Very often we speak of Inter-Religious Dialogue after tragic events, but this must be lived daily. It's about showcasing your faith but also those who don't believe."
"Show us the light!" In recent months, he has met many Catholic media and says he is touched by "amazing encounters: the deep joy during the meetings with the Spiritual family of the Emmanuel network, the social work carried out by the Brothers of St John, the Marists too…".  In order to please and accommodate what the other waits for, we avoid any religious reference. Instead of highlighting values or light, we are going to highlight drifts or the Dogmatic aspect. All these are protections to avoid seeing the light. I met bright people!"
"Show off the young!" "Look at the large number of young people who come here to Lourdes to serve others. You, media and believers, say all that is lived here at the service of the sick, all that young people give with their soul and body! Let it be known. All this is neither reserved, nor apart, show it! To each young person, we also want to say: do it as you wish, pray, do not pray, if you can be there and reach out to others, so much the better! Show them off, give them strength! My children, I want to show them what is happening here, so that they can experience it!"
"Let's stop the complexes" "As Catholic media, you keep saying that you are open to everyone, that you speak to everyone. Okay, but isn't it also by being Catholic, a singular way of being. And if we can use the light and the voice that is given to us, let's go! What also strikes me are the opportunities for meeting and collaboration between individuals or groups: how do we use each other's strength? Give me the trampoline and I'll jump on it! Let's be uncomplicated».