St Donatien Chapel, Derval, France
A book as a gift. A gift to Mary and to the readers at the same time.
To pray and help to pray Our Lady, to entrust Her with intentions, like a "heart to heart" between children and their Heavenly Mother.
Michaël Barat had been at the initiative of this project. Assistant Director of St-Donatien College in Derval, France, until the closure of the School in June 2020, he led for nine years workshops of Marian Prayers with young people of 1st and 2nd Forms.
This book is a kind of a spiritual testament to recall how Saint-Donatien Institution bore a particular devotion to Mary. It is also dedicated to the memory of Bro Yves Leroux, Secretary of the College and faithful support of these youth prayer achievements.
From 10 points of reference to write to Mary, each young pupil was invited to create a prayer. And the fruits of this workshop are visible! "Their words simply speak with accuracy and authenticity of their life history, their concerns, their sorrows and joys, their gratitude and hope," stressed Michaël Barat.
From "Mary, teach me, help me", to Mary of light, Mother of Families, of Forgiveness, the work also proposes prayers to our Lady of Studies, of Trust, of Farmers, of the Road, of Trades…
These simple and strong prayers, both for the little ones and for the tall ones, are offered as a manna of hope in difficult times, but also in everyday life. Like a free bouquet.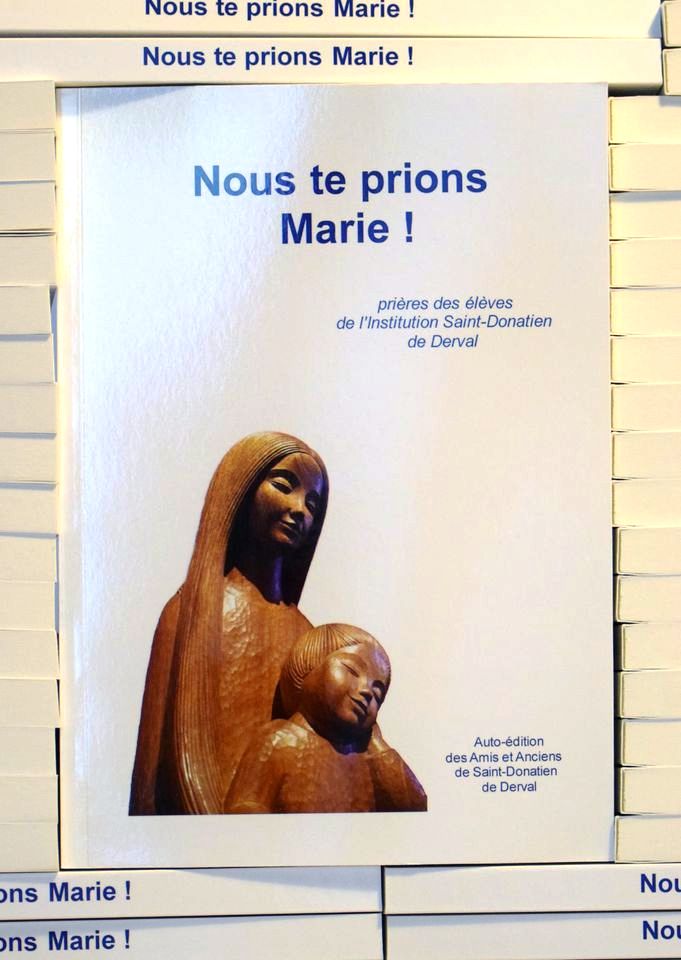 This book is a rare initiative, a testimony to how much Mary can nourish and inhabit the life and heart of young people. With intensity and truth.
Practically. The 164-page book – 14.5 x 20.5 cm format – is self-published.
It is available at a price of 10 euros – including shipping costs by writing to:
Friends and Former pupils of St-Donatien :
PO 20041 – 56350 ALLAIRE

O Mary, help us and support us
O Mary, help the children to ignore the mocking
O Mary, support children who find it difficult to accept themselves as they are
O Mary, help children with physical disabilities to overcome it
O Mary, support parents in financial distress
O Mary, help parents to accept their children when they are different
O Mary, support me to behave better in boarding school as at home.
Amen
2016-2017