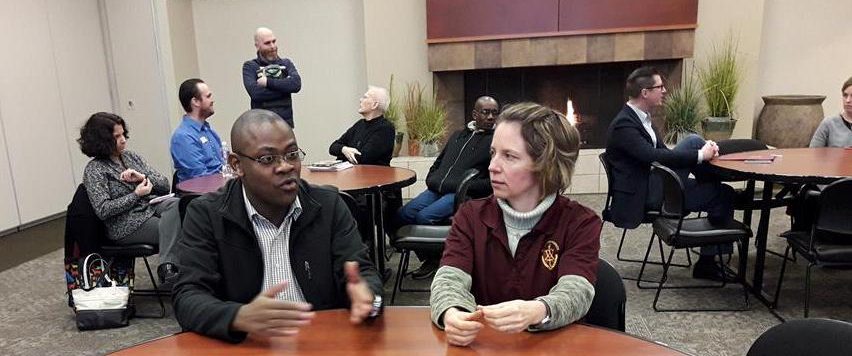 An ordinary meeting, but pregnant with meaning. Sitting at table in the new building inaugurated these days at Walsh University -Canton, USA- to develop GLOBAL LEARNING -Global Learning- Bro. Walter, American, on the right, Professor Michel, on the left. Bro. Walter is the assistant of Brother Charles, the Canadian Superior of the new international Community of Brothers present at Walsh. Professor Michel is delegated by the President of the University to further develop the identity of the Institution by remaining faithful to the original intuitions of the Mennaisian Brothers, better known here as the Brothers of Christian Instruction.
 A new building, a new Community, a new page …    
The three of us discussed together the possibilities of journeying with the young people of the University in the discovery of the Mennaisian traits that animate young people in other parts of the world where Mennaisian Brothers and Laity are present.
The University has already taken pastoral initiatives and earmarked true witnesses of faith to present an excellent proposal to the young students. It's all about how long-standing roots could be utilised in new projects that would give more life than today.
We also discussed the orientations guiding the formation of  Lay Mennaisian groups: Mennaisian dimension, Christian dimension, Human dimension.
It is quite a long time since the President of the University has been insisting on this prologue. It seems that the time has come to write a new page of the Mennaisian history regarding these lands, and to continue to LEARN TO GLOBALISE THE MENNAISIAN CHARISM today.
May the Blessed Virgin Mary guide this process so that Jesus may be known and loved as Jean-Marie de la Mennais wanted.
Bro. Guillermo DÁVILA