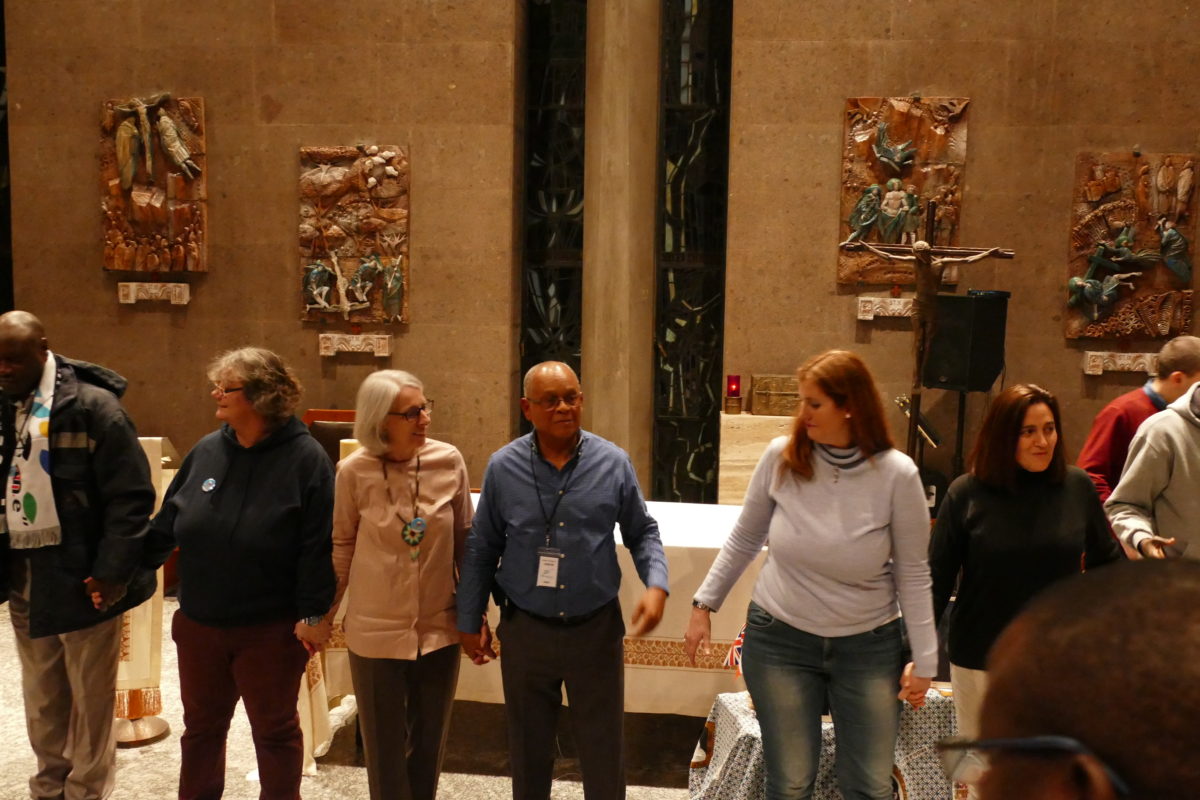 Françoise: "It gives us breath to continue"
"I had a moment of brotherhood. I shared it with lay people in France. They said to me: we would like to be in your place.
What we have been able to do makes us want to continue. We do not stop at a writing.
It is an encouragement to continue in the Mennaisian spirituality to build together, to meet other expectations, to evolve.
It gives us breath to continue. I really thank you for this invitation and the welcome I received. "
Lorena : « A joy for me to work for the Mennaisian Family »
"I would like to thank the Superior General, the Council and all the Brothers for inviting me to participate at the beginning of the General Chapter. Thank you for listening to us.
It is a joy for me to be here and work for the Mennaisian family.
I have experienced this as a grace. I wish you to have a good Chapter
I will pray for you so that the Spirit accompany you in every moment of your chapter."
John Bosco : « Coming here is a sign that you love us »
"Thank you for allowing us to come here and participate in the Chapter of the Congregation. It's a sign that you love us. (…)
We wondered if the document on the Mennaisian Family would be accepted. This morning was our new page. We will work again. There are plenty of things to do.
For the outgoing superiors, for the good relations and for our provincials, we pray the same Spirit. With the new superiors, we hope we will have the same spirit.
We wish you the best for the coming days. God bless you."
Jean-Robert : « We have not worked for us. »
"What drives me is a sense of gratitude. It was a really rewarding experience for me. I want to thank my provincial, the general council and also the members of 'Commission four' for their welcome, their openness. (…)
I leave with a little disappointment, because we will leave without a text, without a final document. But I also know that God knows what is good for us. Quite often, he makes straight lines with curves.
When you build a house, it takes time. If the Lord is not with us, we build on sand. I believe we are fortunate to have six people who are totally devoted to the Congregation. I think we should take advantage of their presence to lay the groundwork. We did not work for us.
I know there are some of us who will not live long to see these dreams come true. But I hope that the Spirit will be with you throughout this Chapter for a renewal of the Congregation that we consider ours.
Thank you and God bless you."
Michèle : « May the dynamism of the Mennaisian laypeople also bring you joy »
"The best way for me to summarize is to share with you what touched me the most during this chapter.
What has touched me since I was on the international commission of the GC is its openness and audacity for the development of the Mennaisian Family and which allowed us to attend this Chapter.
Especially on Thursday night, I appreciated the great thoughtfulness of proposing to sign the Treaty of Union. (…)
I was greatly impressed by your meticulous work on the text on the Mennaisian Family.
May the dynamism of the Mennaisian laypeople also bring you joy.
I believe in the One who is truth. It is the responsibility of everyone to be well informed and not to have reactions of fear. You have filled my cup. It is now overflowing and ready to go on a mission. You have allowed our love to grow considerably.
I quote a word of St. Paul: "Do not extinguish the Spirit, do not despise the prophecies but discern the value of all things. What is good, keep it, and stay away from all kinds of evil. May the God of peace himself sanctify you entirely. "
Laura : « I encourage you to dare more »
It has been two years since I was convened with the same six people. Last Friday afternoon, a Brother witnessed that we really felt at home. We talked, we cried. It had nothing to do with the first meeting we had.
We have always tried to put ourselves in the other's shoes. I want to say thanks to the Brothers for this opportunity that they gave us to feel at home within the same family. We can write a new page of our history with you. Those of my family share my feelings. (…)
We came hoping for an answer. God has other views. We must be patient. But I saw this huge step we did. For us, it's normal but for you, it is a giant step. And it is God who acts like that and who generates these links.
You have taken a tremendous daring step. I encourage you to venture out for more, including in your way of loving yourself, of showing affection among you, as the laity do.
You still have a lot to do: courage, courage. This is the delivery room of the Mennaisian family. Childbirth takes time but the resulting joy is tremendous. "