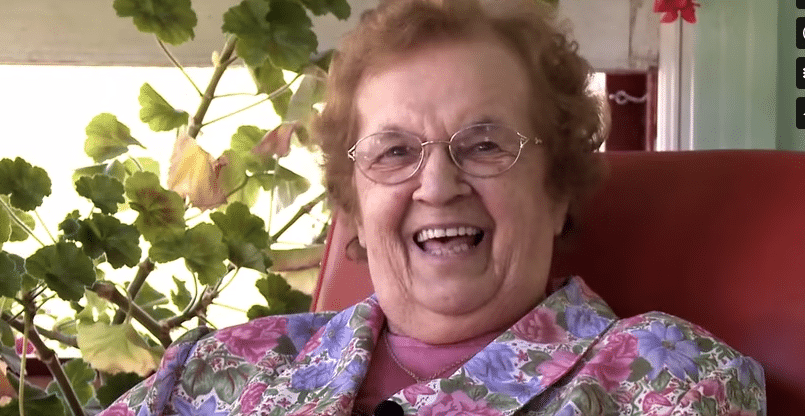 "I really enjoyed my life"! Nearly the first Associate Member of the Mennaisian Family of Jean de la Mennais Province – Canada-USA-Mexico- Jeanne GELINAS left serenely on November 4th 2022 at the age of 100 years and 10 months.
Affectionately called by Bro. Mario HOULE, Provincial, "the Mother of the Mennaisian Family," Mrs. Gélinas died at home in the presence of her daughter Céline, who had been her constant care-giver for many years.
"This immense generosity on her part allowed Jeanne to remain at home until the very end," wrote Bro Mario, "and to live her passage into the afterlife from the house of Ste-Flore, Quebec, where she lived all her life and where she raised her family.
In a video made by her grandson on the occasion of her 90 she tells what gave breath to her life. In this year on hope as a theme for the Congregation, it is a history of life and family that is given to us to share.
Here is the link to view
Her grandson's ground breaking Documentary on Ms. Gélinas –of 16 minutes
To give joy!
Jeanne had long been ready to go and meet God, continued Bro Mario,
since she had always met Him in every person,
every event, every trial and every shared Joy.
Many of us have experienced His special gift
to meet important people
to feel and to restore Joy.
She was a woman of encounter, of Music, Prayer, and Life.
She leaves us with an immense legacy as a the First –
Associate member with us in Quebec, with her husband Paul-Émile.
She was the mother of Bro. Gabriel, our former Provincial, who passed away in 2015."
The funeral will be held in Ste-Flore, Quebec, on Friday, November 11th 2022 afternoon.