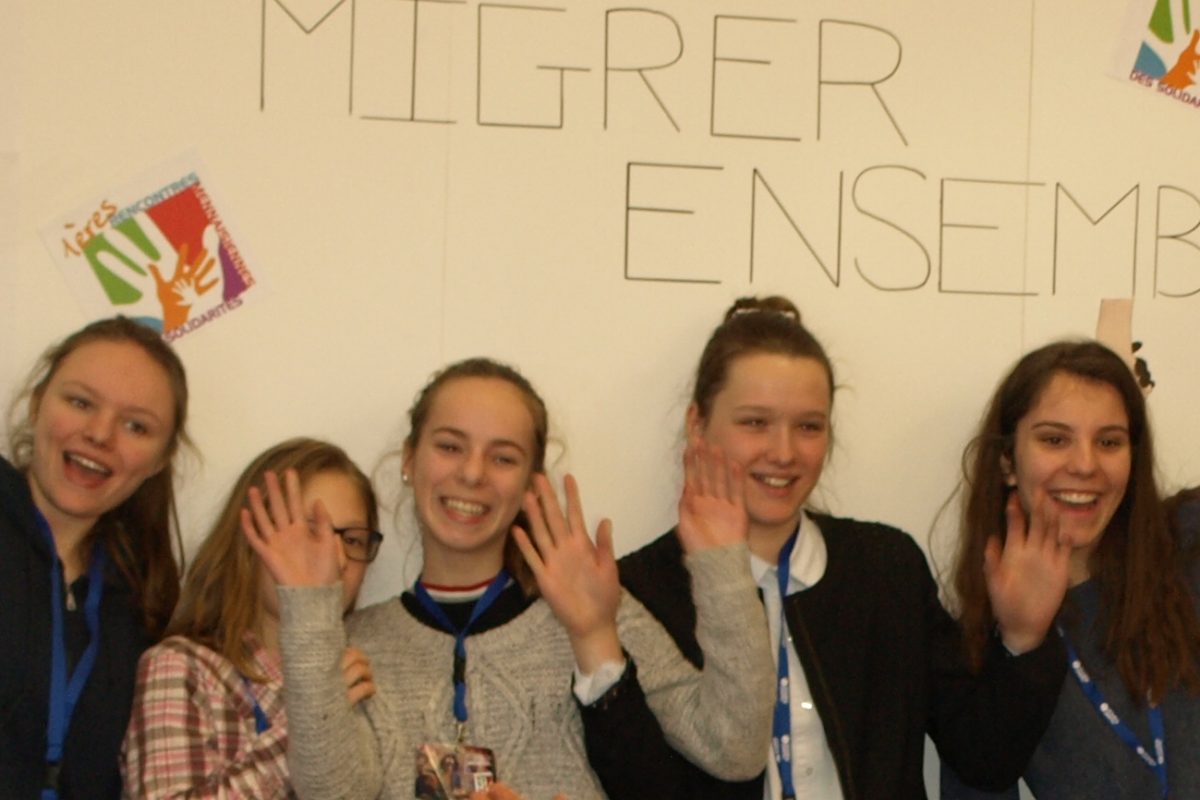 "It's rare to be able to carry out actions in a school and that's why I wanted to be active." The 70 participants of the Solidarity Day lived in Ploërmel on 1st February 2017 are enthusiastic. Young people the aged between 12 and 20 years, many of whom have lived through migration situations, teachers, directors and staff of the La Mennais education network have enjoyed a toned day. Testimonies, workshops and concerts have fuelled the desire to develop solidarity teams and projects in schools. Discovery.

"Giving others time and investing in projects is worth it! ". To listen to the testimonies of a team from the Lycée La Mennais in Ploërmel who visited refugees in a Reception Centre in France, to understand the course of migrants coming from Iraq hosted by the Association Apui de Vitré, to meet women from Herbignac, of the Solherbu Association, responsible for a project to create a Child Welfare Centre in Burkina Faso, to become aware of the 23 projects under way in 20 countries managed by the Assific Association Dynamic Team around its president Alain Caillon: so many opportunities to dive directly into the heart of realities.
Prepared for a year, this Day of Solidarities is the occasion of a click or a new start: in the Primary school, in the Secondary school, "in the High school formation, you can associate yourself to set up a Solidarity project, and this can change your life!" Of this, Emeline, Mareva, Perle, Laurine, Solenn, Jeanne, Sophie Courtault, Isabelle Renault, Bro. Olivier Migot and others of the Lycée La Mennais de Retiers are convinced of this. They are manoeuvring in the team that initiated this meeting, in connection with Claude Ménard, of the Network's tutelage. At the sustained rhythm of the Band of Cleu St-Joseph de Redon, songs and testimonies succeeded one another.
Live talk with Camille, Mennaisian volunteer in Bolivia, Nurse and animator at El Alto; sharing the desserts of the world made by Guérande, Vitré, Herbignac, Ploërmel, Retiers, Redon … and meeting with the team of one's school to make projects emerge with the help of a Solidarity Carnet: great opportunities to experiment on how to act together with others colours one's life. To be in solidarity with my class, my school and with a country to live a Project: it is possible!
Contact : solidaires@mennaisien.org