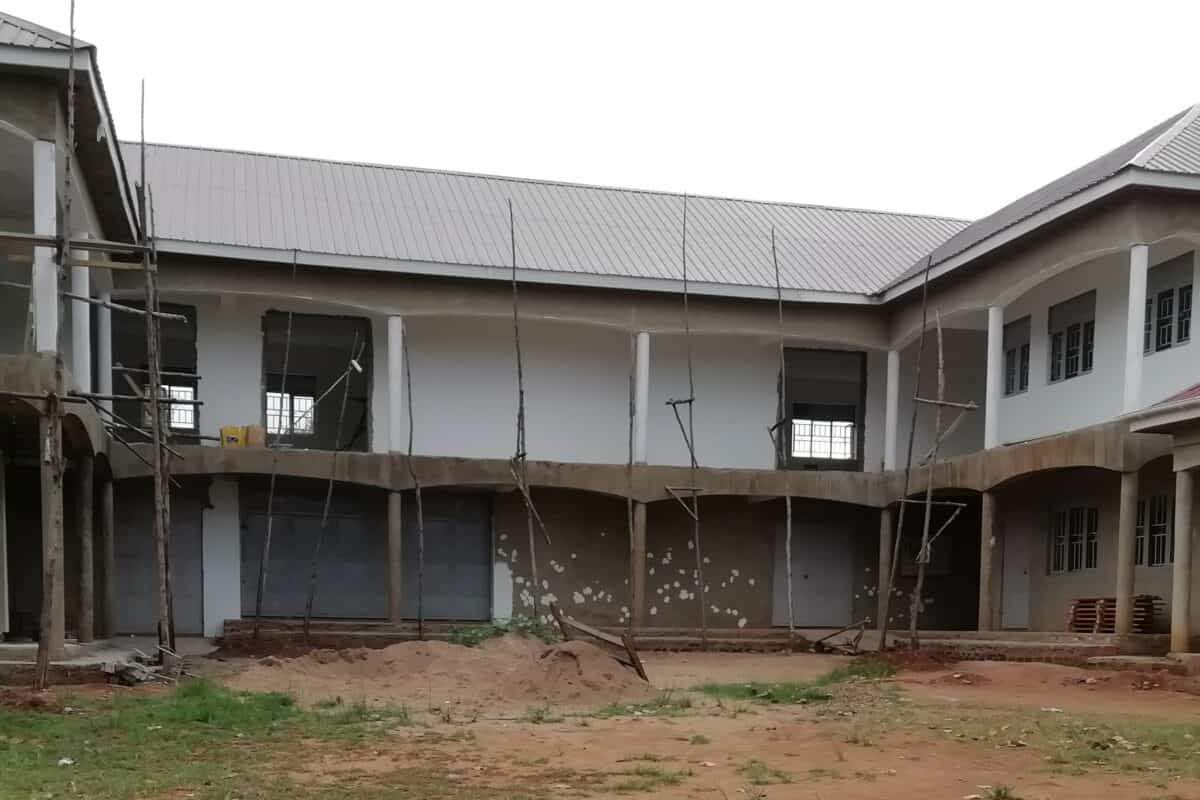 The construction of the La Providence Vocational School is progressing well, Thanks to the Canadian Donors in particular.
For several years the Sisters of Providence of Saint-Brieuc, founded by the Father of La Mennais, have been present in Uganda by sharing the life of the new Congregation of the Sisters of Providence of Nebbi. They were inspired by the rules of the Sisters and lived in the Spirit of the Mennaisian charism. Sr Louise Touchette and Sr Emma Mudrick lived there and contributed to the Formation of the Sisters in Education, in search for Economic Resources. As a reminder, the Brothers of Christian Instruction have also been present in Nebbi for months to take charge of a School. Now let wait to hear from the Sisters.
"Life in Uganda has been punctuated in recent months by Presidential and other Elections and Covid," said Sr. Louise Touchette. "We have lived in very severe restrictions. In June-July: all places of Worship and Schools were closed, no public transport, one needed a Special Permit to travel with a private vehicle, motorcycle, or taxis, (boda-boda) could only carry goods without passengers, etc.
30 Young women, Training in Sewing and Hairdressing
At Providence Vocational School, our Technical School, regular students had to return to class on 7th June after a 3-week holiday: what a disappointment to learn the night before at the National news, another new period of "Lockdown".
I found it very sad to see such an abrupt end of a particular Project that we had been conducting for 2 months: 30 young women welcomed for an accelerated training of 3 months, either in sewing or in hairdressing. We conducted this project in partnership with a local NGO which aimed to promote the training of young people who could not follow a regular program. Some women were already married with children, others pregnant without husbands, others living with AIDS, others who had no chance to follow and succeed in Primary or Secondary Education.
They were at the beginning of the third month of training and were preparing for the Exams. How many will be able to take this training? They were courageous to live this experience and accepted really limited conditions for the reception because we were not really organized to receive Boarders: in what was a Classroom, we had placed 15 decker beds in the Dormitory ready to welcome the 30 young women!
The Construction of the School is progressing and we hope that the 2nd level would be ready to welcome the students when they return. It would all be furnished by then. Some furniture would be made by more advanced students. Wood often comes from the Border Country of the Democratic Republic of Congo. The wood would have to be found early enough to be well dried; this is a problem often encountered in our furniture purchased here with unseasoned wood of «works» after manufacture: bad surprises!!!
Young Sisters are Pioneers
The Daughters of Providence of Nebbi Community is developing well. The young Sisters are aware that everything is to be built and that they are the Pioneers. In addition to the Courses devoted to the Religious Life Formation in early stages, other formations are added in connection with the Projects set up to enable the Community to meet its needs and support its Mission.
We chose what was within our reach and where we could find a market: making Hosts and candles. These 2 activities are done in our yard with very simple means. For candles, the market is larger because they are in demand for various occasions.
Our young people are talented and can even, on request, do the decorations by hand. A large garden of 13.8 acres has been put at our disposal. At the beginning, there was only Agriculture but have added chickens, goats, rabbits and since last year, fish! Currently fishermen are preparing a large net that would allow the first harvest: fish would be sorted and small ones released back if they don't meet the desired size. Customers are already waiting, especially in Hotels and Restaurants.
We would need a pump to secure the water supply from the largest pond to irrigate crops. As everywhere, climate change is occurring and it is difficult to predict the timing and duration of the rainy seasons. The water is there, but it should be pumped and brought to the right places at the right time!"
Sr Louise Touchette