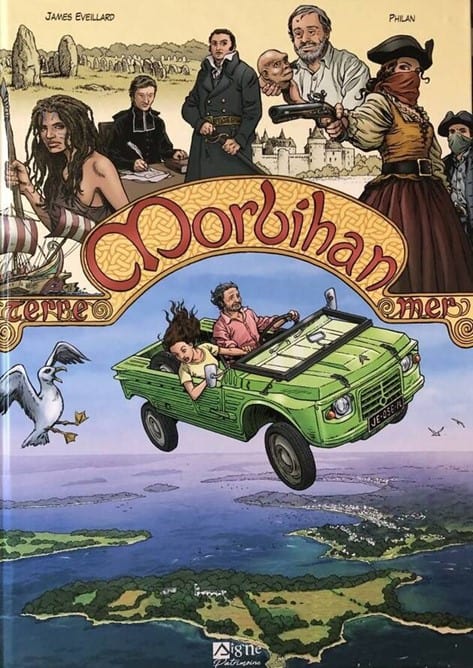 Jean-Marie de la Mennais on the cover of a Comic: this is not banal! He is not alone: he is together with Marion du Faouet, Yves Coppens, Georges Cadoudal, all overlooking Berder Island. These characters are at the heart of a Comic just published in France by Le Signe and available in Bookshops. It is entitled "Morbihan entre terre et mer" and the Action of Gabriel Deshayes is also mentioned. A carved fresco and a realistic graphic style for a dense set. Reading and Discovery!
Here we are in the footsteps of Océane, a student whose parents are from Morbihan. She decides to create a dossier on the History and Heritage of the Department. She is guided by Yann-Fanch, a retired History-Geography teacher. This is the scenario imagined by James Eveillard, former Curator of the Departmental Archives while the drawings are signed by Philan Nguyen and the colors made by Zuzunna Zielinska and Bruno Pradelle.

Two founders
Here we are on page 48: we are meeting Jean-Marie de la Mennais and Gabriel Deshayes. "To train Christian teachers and open Rural Schools" is the project of the Brothers of Christian Instruction. The Action of Gabriel Deshayes in Auray is also strongly emphasized. He is "present at the side of the elderly, the unemployed, the destitute, the deaf and mute and also the blind…".
In turn, in the course of the bubbles, we pass from the Palaeolithic to St-Philibert, Teviec, Trinidad-sur-Mer, Gavrinis, Carnac, Lanvaux, Colpo, Melrand, excavation sites in Inguiniel. Here we are aboard the vessels of the Venetians, at Bono and Locmariaquer, Bieuzy-les-eaux, Pontivy, Melrand, at the assault of the Castle of Suscinio, at Guillac, Vannes, Josselin, Kernascleden, Le Faouët, Bréhan. Here now is the Citadel of Port-Louis, Lorient, Auray, Pluneret, Beignon, Brech, Etel, and we enter the Sanctuary of Ste Anne d'Auray, before reaching Larmor-Plage, then the Maquis of Saint-Marcel… and many other places.
In the end, a Beautiful Album that we would have liked even thicker!
In practice. Morbihan, a story on land and sea. Editions du Signe. Online order: www.editionsdusigne.fr
56 pages, 19, 90 euros. Distribution in Bookshops.  Out of a circulation of 5000 ex, 3,000 were acquired for distribution in Schools and Public places. Côtes d'Armor and Finistère already have their Album.