Pope Francis held a meeting with the Superiors General during the 88th General Assembly of the Union of the Superiors General -USG- on the 25th November 2016, in Rome.
The Pope listened carefully to the questions of the Superiors  General and he answered them joyfully with spontaneous comments. The topics discussed  concerned the mission with the young people, the relation of the consecrated members with the local Church, the administration of goods, the sending towards peripheries, the radicality of the prophetic charism and the mission with the migrants.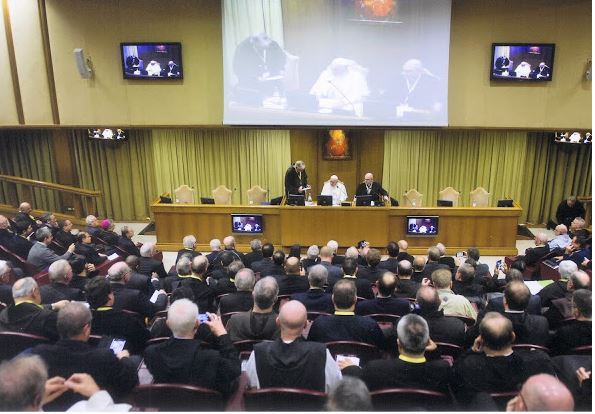 He asked the consecrated to approach the young people by listening to them and making them active in the mission of the Church. About the work with the youth as well as the promotion of vocations, he underlined the importance of discernment. Finally, he reminded the group of the origins of the Church, which set off after having received the Holy Spirit.
Il a demandé aux consacrés de s'approcher des jeunes en les écoutant et les rendant actifs  dans la mission de l'Église. Au sujet du travail avec la jeunesse ainsi que la promotion  des vocations, il a souligné l'importance du discernement. Enfin, il a rappelé au groupe, les origines de l'Église, laquelle prit la route après avoir reçu l'Esprit Saint.