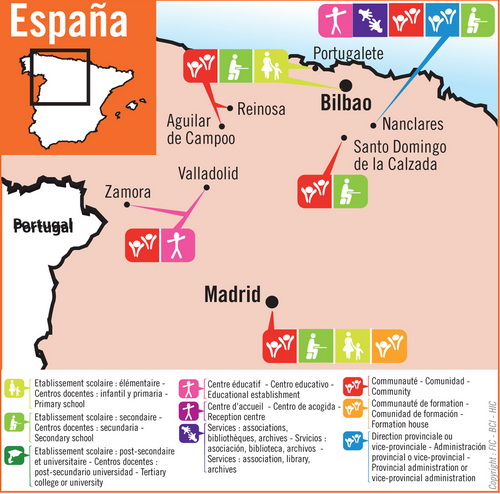 Towns: Aguilar de Campoo – Bilbao – Madrid – Nanclares de la Oca – Portugalete – Reinosa – Santo Domingo De La Calzada – Valladolid – Zamora
AGUILAR DE CAMPOO
Hermanos  Menesianos
Colegio San Gregorio La Compassion
Pº. El Soto, 2
34800 AGUILAR DE CAMPOO (Palencia)
C: ivoarenas@hotmail.com
BILBAO
Hermanos  Menesianos
Colegio Berrio-Otxoa
C/Menéndez y Pelayo, 25
48006 BILBAO (Vizcaya)
C : nemecastano@hotmail.com
Berrio-Etxe
Hermanos  Menesianos
C/Menendez y Pelayo 25
48006BILBAO (Vizcaya)
C : barbasrepublicano@hotmail.com
MADRID
Hermanos  Menesianos
Colegio menesiano
Avenida de Brasilia, 11
28028 MADRID
C : raulbr53@hotmail.com
Madrid – Nuria
Hermanos  Menesianos
Nuria
Sancho Dávila, 6 izda 5°
28028 MADRID
C : hfexme@yahoo.es
NANCLARES DE LA OCA
Hermanos  Menesianos
Colegio San José
Avda Langraiz, 2
01230 NANCLARES DE LA OCA (Álava)
C : susillagil@hotmail.com
PORTUGALETE
Comunidad de Santa María
Colegio Santa María Ikastetxea
C/ Alberto Palacio, 2
48920 PORTUGALETE (Vizcaya)
C : edesiogutierrez@hotmail.com
Hermanos Menesianos
Portu-Joven
C/ Alberto Palacio 2
48920 PORTUGALETE (Viscaya)
C : josuolabarrieta@gmail.com
REINOSA
Hermanos  Menesianos
Colegio de San José Niño Jesús
C/ Peñas Arriba, 19
B.P.20
39200 REINOSA (Cantabria)
C : duende1035@hotmail.com
SANTO DOMINGO DE LA CALZADA
Hermanos  Menesianos
Carretera de Ezcaray s/n
26250 STO. DOMINGO DE LA CALZADA (La Rioja)
C : capecar@hotmail.com
VALLADOLID
Centro Menesiano San Pedro Regalado
Avenida de Santander, 14
47011 VALLADOLID (Valladolid)
W: www.menesianosvalladolid.com
ZAMORA
Hermanos  Menesianos
Centro Menesiano Zamora Joven
Entrepuentes, 20 portal, 2 Bajo B
49028 ZAMORA
C : antoniourbin@hotmail.com
---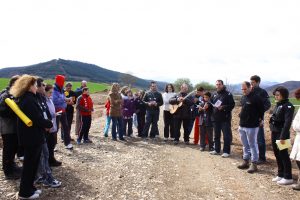 The origins
In 1903, driven away from by their schools and forbidden to teach by the French government and its leader Émile Combes, many of the Brothers of the South of France opted  to emigrate into Spain.
That is what four Brothers did on the 13th June, 1903, settling down near the border in a house at Zugarramurdi. Some fifteen others followed later in October. The Spanish Mennaisian branch was born.
The beginnings were difficult, the Brothers being without resources. Mikelen Borda, Dancharinea, Lujua, and Etxebarri were the first settlements. In 1914, Bro Ulysses Baron, Provincial, bought a seaside residence Nanclares de la Oca's, uninhabited for fourteen years: the Brothers had from now on a Monther House and a Formation Centre.
Today.
With the development of the Province, Spain sent some missionary Brothers to Haiti, Argentina and recently to Chile and  Bolivia.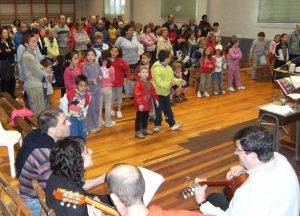 Today the Brothers work in 9 big educational centers catering for children from the nursery to the Higher School : Bilbao, Reinosa, Aguilar de Campoo, Portugalete, Madrid,  and Santo Domingo de la Calzada. At Valladolid ( 1991 ) and at Zamora (1998 ), the Brothers opened two professional and Technical Centres catering for young school dropouts, academicaly, socialy, in their family life and need new integration into society.
The communities of Chile and Bolivia were born from the Spanish Province and offer the opportunity of living a demanding missionary commitment. Young lay volunteers also get involved for a few weeks or the whole year to participate in the animation of these missionary institutions.
The Mennaisian Family.
The Province and every school invest a lot in the training of teachers, parents and young people, so that the Mennaisian charism and the educational principles of Jean-Marie de la Mennais are shared and lived by the Brothers and the lay people.