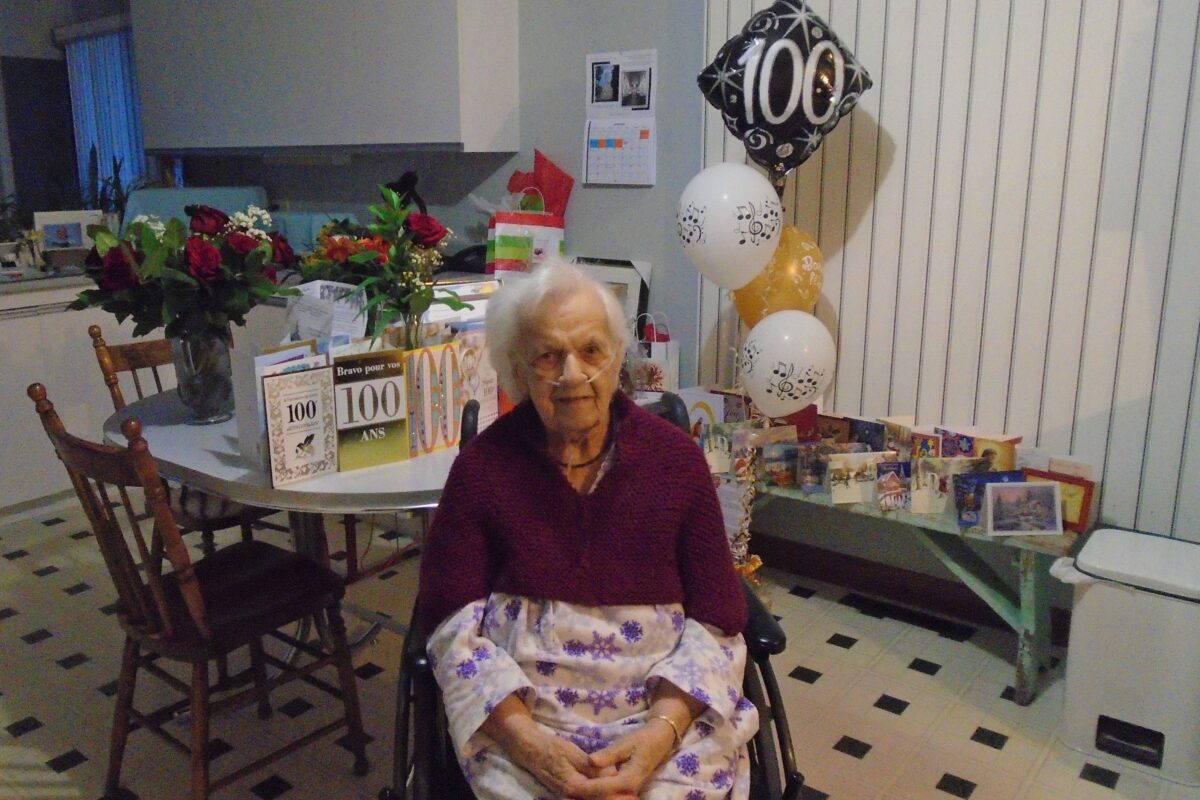 January 1st is of course a New Year, but it is also the Anniversary of Jeanne GELINAS of Quebec, affectionately known as "Maman Jeanne". Since the 1980s, she was one of the first Mennaisian laity! She is also Bro Gabriel Gélinas' mother – a former Provincial who died in 2015 – and of Céline who surrounds her on a daily basis at her home in Shawinigan. This year on the theme «Serving Life» is a great opportunity to share this Itinerary traced in "Trait d'Union", the Bulletin de liaison of the Mennaisian Family of Jean de la Mennais Province, thanks to Léo Guilbert. Happy Birthday "Mother Jeanne!"
Joy of the family and of the loved ones, a sense of the values received and transmitted, concern for Education and the Life of the World: so many realities lived by Jeanne Gélinas in the great Mennaisian Family. As soon as the first landmarks were published to associate Lay people with the Mennaisian Mission in the 1980s, Bro Gabriel Gélinas invited his mother to reflect on this possibility. After discernment, she took the step and committed herself. Doing this, she was a Pioneer in Quebec and one of the very first to walk as a committed Laywoman sharing the Mission of the Congregation.
Her health? Stability in fragility. Her heart being weak, she is constantly saving energy, which requires a great need for rest.
The most wonderful thing for our «Mother Jeanne», is that she welcomes each morning as a gift, life is lent to her one more day. A grace. One day at a time, and even to faith, in prayer and rest.
Jeanne finds in Drawing a part of her daily occupation. In a feedback activity, she chooses a particular colour that she applies to the Calendar to indicate her feeling; these are usually warm and intense colours. Nothing better than yellow to express the light that inspires her Birthday. She has a faith as blue as the sky, an inner strength as bright as the red, a longevity as the orange of the twilight… Jeanne, these are Gélinas.
This witness is doubled by the constant and attentive presence of her daughter Céline, her faithful Caregiver. For 11 years, she has accompanied her as a Guardian Angel; she is the hidden face of the situation, she is both her cook, her nurse, her night light and her Oxygen. And her accomplice in sharing a faith to move Mountains.
If we must look for an example of our Annual Theme, it is enough to turn to St Flora, where peacefully there is a witness of service, like Mary with her cousin Elizabeth. God's love has places and faces: let us recognize them».
Léo Guilbert
Shawinigan Mennaisian Community
Thanks to Céline Gélinas, M. Léo Guilbert, Bro Mario Houle, Provincial and Bro Robert Smyth, tireless conductor of the Bulletin «Le Trait d'Union» for decades!