The team of John-Paul II Centre of Huatusco, in Mexico has just lived during these last weeks some very lively meetings with the movement of the Young Mennaisian people -MJM.
These important meetings  were lived during the Great Novena of November, during the Advent Season and on our first recollection day of the year.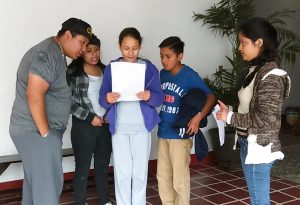 " All these events helped us to live the Nativity and to receive
Jesus' love, here at Huatusco ", Maryfer explained, in the name of the team including several other laymen: Nancy, Sarahí, Esmeralda, Erica and with the participation of 19 young people – Perseverancia y Movimiento Juvenil Menesiano ( MJM) – and of the community made of Bro Mario Couture and Gaétan Arseneault.

María Fernanda Capellini, Huatusco