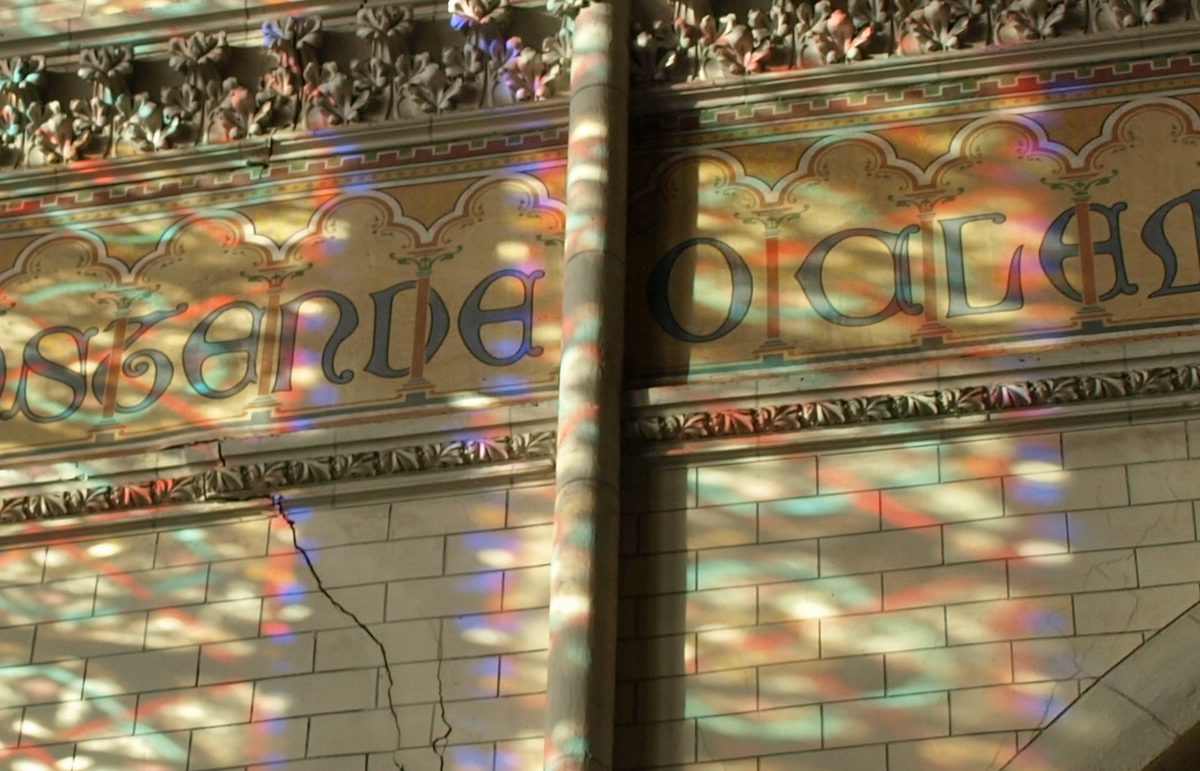 The scaffolding are in  the chapel of the Mother House in Ploërmel. Work has begun over the past few weeks. The reinforcement of the top of the walls and of the framework is in progress. The stained glass of the northern transept -side of La Mennais Square- is also disassembled in order to remove the cracks in the columns. Explanations.
Cracks existed in the interior walls of the chapel without any perceptible evolution. Recently, these cracks have multiplied and enlarged. Located in the upper parts, they gradually descend. There are more than thirty. All the walls are practically concerned: those of the nave, those of the low sides and those of the two transepts. The northern transept (inner courtyard side) is particularly fragile.
" We thought that the cause came from damages of the basement and the foundations ", explained Bro Louis Séité, Provincial and Bro Rémy Harel, provincial bursar. In Spring 2015, an expertise by ecography was realised inside the chapel and so were some soundings outside. If the existence of some cavities was well located, they do not seem to be at the origin of cracks.
On the other hand, thorough inspection of the vaults proved decisive. The parts of the high walls, due to an absence of horizontal chaining and then probably due to infiltrations due to a progressive deterioration of the roof, have weakened strongly and have gradually caused the whole building to move away.
The work consists of "encircling" all of these walls with stainless steel ties, bonded together by resin mortar. The framing will also be resumed in different places.
Other works: the columns of the large stained glass window of the northern transept also have cracks. The stained glass will be disassembled and then refurbished. Outside, at the apse, on the side of the La Mennais Square, a buttress also demands repair. The cost of this work (studies and realisation) is estimated at 230 000 €.
Photos Bro. Jack Davis, Mr. Michel Tanguy