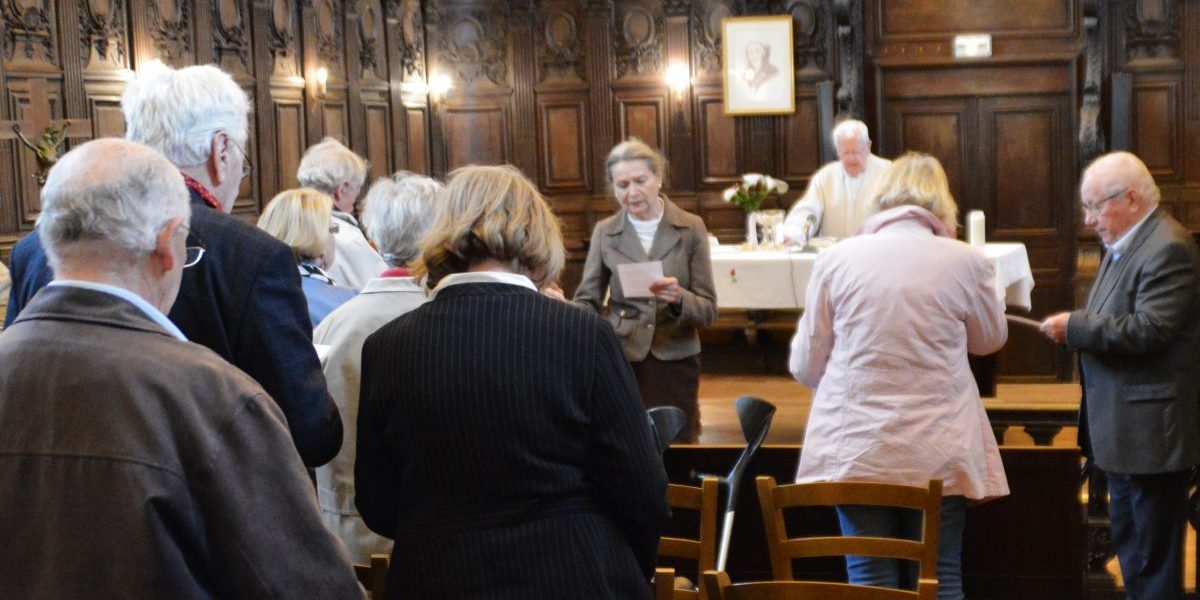 Photo. Pilgrimage of Gabriel Deshayes' Friends. Here, during the celebration in the chapel of the Eternal Father, at Auray.
The association of Gabriel Deshayes' friends regularly organizes pilgrimages on the striking places of the founder or the co-founder of about ten congregations, including ours. On Saturday, May 21st, the meeting took place at Auray, the town where he was Parish Priest.
Narrative by Bro. François Jaffré, secretary of the association :
"We are about twenty this Saturday, gathered in the basilica of Ste-Anne d'Auray. Father Adrien Collet, president of the association summarises Gabriel Deshayes's role in the history of the pilgrimage, without hesitating to ask the question of its existence today if Gabriel Deshayes had not intervened in its revival following the Revolution. We joined thon the" Field of the Martyrs "witness of the death of hundreds of emigrants in 1795. It is again the Parish priest of Auray, who took the initiative in 1815 to transfer the remains of the shot in the crypt of the chapel of the Chartreuse where a nun of the Wisdom guided us. During the picnic Father Adrien reminded us the social priest, Gabriel Deshayes was, going prematurely, to the peripheries of his parish and its neighbourhood. Let us quote, maybe, his most beautiful social work: the opening of a school for deaf and mute persons, right here in the Chartreuse, one of the first ones in France after the Revolution.
In the afternoon we stop in front of the chapel of the Holy Spirit, at the former prison of the city, before celebrating the Eucharist in the chapel of the Eternal Father, the birth place of the Brothers of the Christian instruction, during the spiritual retreat of September, 1820.
The pilgrimage of 2017, in the course of May or June, will lead us to Saint-Laurent-sur-Sèvre, to the tombs of St Louis-Marie of MONTFORT and Gabriel DESHAYES .
Bro. François Jaffré