Five days after the eruption of the Nyiragongo volcano began in the East of the Democratic Republic of the Congo, Earthquakes shook the City. The Authorities of Goma ordered the evacuation of the City of 600,000  inhabitants on Friday, May 28th . Goma is literally glued to the border of Rwanda, to the city of Rubavu, better known by its former name of Gisenyi. The Brothers are in Gisenyi on the other side of the Border of Congo DRC, gathered in the Community of Nyundo or/and Kirambo in order to be more secure.

A risk of explosion exists: Earthquakes and soil deformation indicate the presence of magma under the urban area of Goma and gas under Lake Kivu." The situation can change quickly, it is under constant surveillance," the authorities said.
Bro Dieudonné Uzele of the Community of Gisenyi wrote on Thursday 27th : "The evacuation of a good part of Goma also pushed us to seriously consider the possibility for the Community of Gisenyi to join the Community of Nyundo or/and Kirambo. Brother Aniuwe already arrived here this morning. This afternoon we would take him to the Community of Nyundo while we wait for things to calm down in Goma!
This morning we were a little agitated following all the information that came from the other side of the Border!"
In Rwanda, the Brothers are present :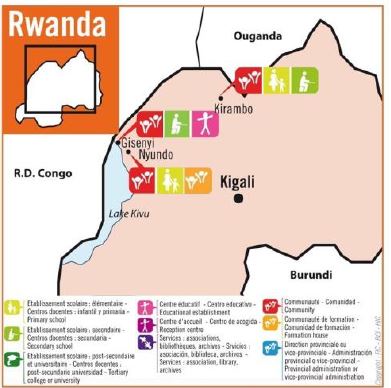 In GISENYI with a Community of 8 Brothers. They are in charge of the St John Paul II School in Mbugangali and the "Vision Jeunesse Nouvelle Association" and the Rugerero Trades Centre.
In KIRAMBO, with a Community of 6 Brothers. They run the TTC – Normal School for teacher training.
In NYUNDO, with a Community of 4 Brothers and the Postulate of Our Lady of the Apostles and the Kindergarten ND of the Apostles.