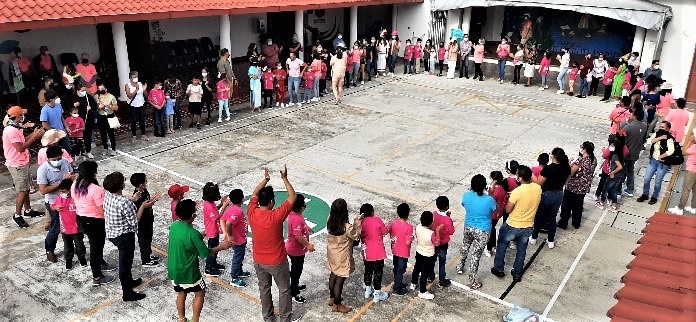 15 years of history and a summer full of activities! After two years without gathering on the site, children, young people and volunteers were able to come together at the John Paul II Centre for a new edition of the Noah's Ark camp over three weeks this summer in Huatusco, Mexico. Here is the testimony of Martha de la Cruz, a Mennaisian laywoman.
This year's theme "Tenochtitlan" reminds us of our cultural roots from the time before the arrival of the Spanish on our Aztec lands. This is an opportunity to celebrate 15 years of magical summer camps that have made so many children and young people happy.
We can also add so many adults, because besides those who are involved in animation, there are many others who have supported us a great deal and make this magic possible.
Thank you to the young animators who gave so much attention and affection to the children. During each camp, the two evenings around a campfire included activities for parents as well as children. The parents took part fully in the activities offered, just like the children, sharing the adventure and striving to create family ties, as well as ties with the other participants.
Games and talents
Many wonder: « But what do we learn at Noah's Ark? There are no activities to reinforce mathematics or correct spelling, and we only take advantage of the workshops to give the children time to simply play and put their talents to good use through activities encouraging creativity and sharing, through games and other various activities.
Of course they learn! They learn through the attention and affection of the animators, from their way of being and behaving. Later, many of them will put all this into practice, when in turn they will become volunteer helpers at Noah's Ark.
This year we had around 80 volunteer leaders. For the vast majority, it was their first time, but almost all have already been participants at the Ark and now give back what they have received.
This year we had volunteer leaders as young as 14 years old. That's why someone said, "These are children who are looking after other children." We do not know whether this reflection was intended to make us, as adults, more conscious and/or more responsible of the fact that we were entrusting children to other children who were simply more experienced.
To give of one's best
What is certain is that all the young volunteers have been trained as facilitators. Most importantly, they have shown that they are available, dedicated and affectionate. Jesus said: "Let the little children come to me, do not prevent them, for the kingdom of heaven is for those who are like them".
It is thanks to these children taking care of other children that this Ark has been such a wonderful success story, "always giving the best of themselves", which has been the theme for this summer.
"The best thing that we received as volunteers – and it meant a great deal – was the affection and the smiles of the children."
Alexandra Mendoza Berriel
Volunteer and Assistant Director of Noah's Ark. 2022
During Noah's Ark, the John Paul II Centre became a place full of Life; life in abundance. The Ark experience allows a little bit of the Kingdom to come to Huatusco, thanks to the Mennaisian charism.
Bro Guillermo Dávila
Martha de la Cruz,
lay Mennaisian