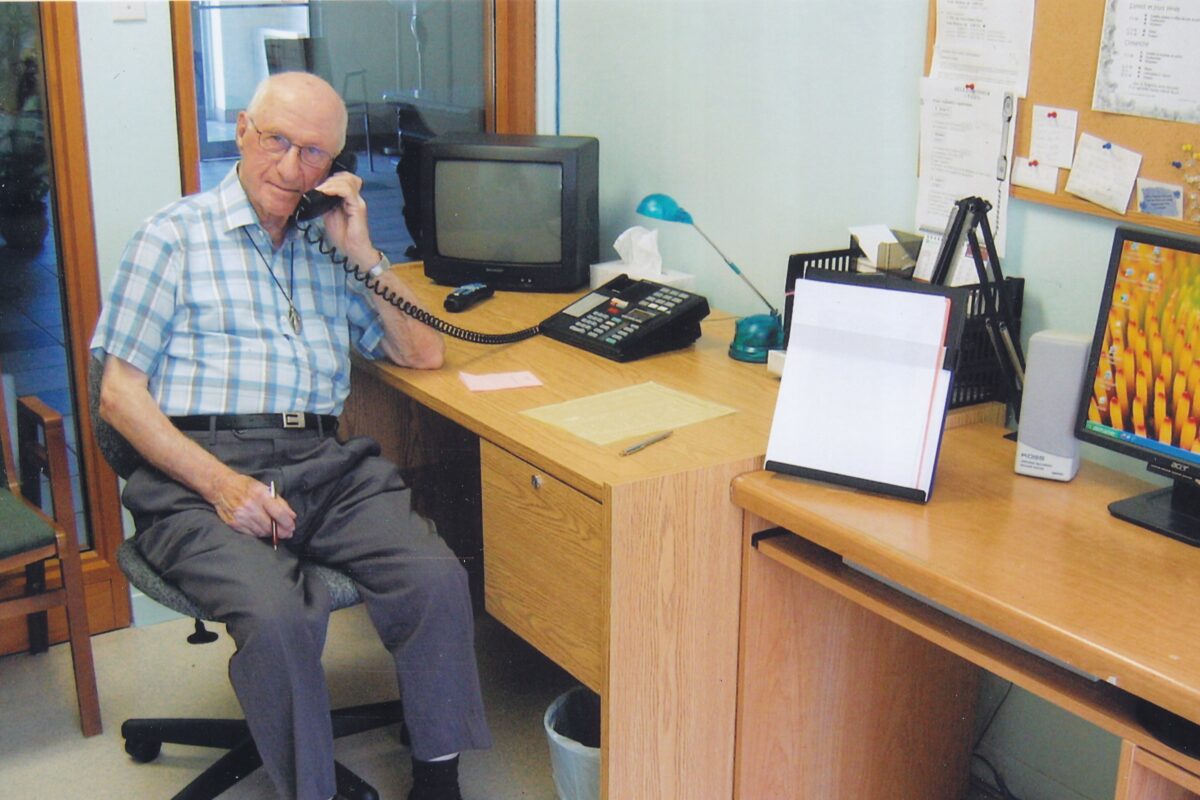 Congratulations! How can we not salute the 103 years of Bro Roger LeBlanc, from the Community of Pointe-du-Lac, Quebec, Canada, born on November 30th, 1918! He cheerfully confirmed his title of Dean of the Congregation, even exceeding the previous record of Bro René Maurice ALLORY as Oldest Dean of all the Brothers since the origins of the Congregation. Meeting with the Dean of Deans who enters History!
The secrets of my longevity? Marie, Community life, Flying, Science and Chocolate!
GOOD MEMORIES
It was my teaching in a Grade 4 Class in Trois-Rivières for two years. A Wonderful Class. I also had a very good experience in a High School in Arvida. These are very dear memories.
My Second Novitiate in Rome and the visit to the Holy Land, with Bro Gilbert Olivier as well. I was deeply impressed by this time of Renewal.
A MORE DIFFICULT ORDEAL
I was given a Grade 7 Class in Shawinigan, a Class of lazy pupils. The Students were not listening in Class, etc. But I was able to get through and the year ended very well.
THE SECRET OF A LONG LIFE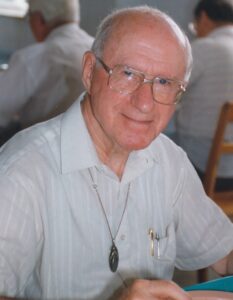 I have to tell you a secret: I've always loved Chocolate… a lot! Now I hardly take it anymore but when I was young… I also like a small Aperitif once a Week, a good glass of St. Raphaël. I gradually stopped it. I have a difficult stomach, I have to pay attention to my food. Sleep well? I'm not a good sleeper, I've never been.
MOST INTERESTING IN MY EXPERIENCE AS AN AIRPLANE PILOT
When I was young, in Grand Mère, I liked to see planes flying, I would run out of the house when I heard a plane passing. There was a small Airport not far from Grand'Mère, at Turtle Lake, for Hunters and Mining Engineers. I was in Chandler at the beginning of my forties when I visited the Flying School not far away, and the Instructor challenged me to sit on a plane and fly. I did so, with great success, following his instructions.
That's when I started taking the Flight Course. The Aircraft I liked the most was the Six-passenger Twin-Engine Aztec. I have also often been a Co-pilot of a 10-passenger Aircraft.
My favourite routes were Dolbeau – Sherbrooke and Dolbeau – Mont-Joli. In Quebec City, I took special courses such as Night Flying, Bilingual Communication, etc.
I had to fly over 2,200 hours. My experience has taught me that you don't fly when you can't fly, or once you're in the Air, you regret taking off. But every flight is interesting, enjoyable. You don't get tired of flying.
GETTING YOUNG PEOPLE INTERESTED IN SCIENCE
I've always liked Science. My favorite Science subject was Chemistry but I liked to teach Physics better, it's more concrete for young people, easier to teach too.
Why I choose Sciences? In fact, a young person must choose what he likes most, what attracts him, according to his own talents. Then it gets exciting. Sciences change a lot, it's always new, we always discover something new, we continue to learn.
TWO MESSAGES FOR TODAY
Maybe two short messages:
The first is the Importance and Beauty of Prayer in Life.
To enjoy time in the Chapel, to Listen and to Contemplate the Lord.
Mary plays an important role: she is the one who leads us to the Lord, she is the one who led me to the Trinity.
And then, the importance of Community life: to love being together, to laugh, to tell stories. I have always been Fraternal, I liked to share stories… I have forgotten them all now!
Interview conducted on 14 February by Bro Claude Beauchesne
Personal note from Bro Claude: During this Interview, I was totally amazed to discover the inner peace and joy of this Confrere. No words of Resentment, Criticism, Bad memories, Regret… He lives serenely, with a Heart full of Gratitude for the beautiful life that the Lord has given him. It is wonderful! During the Interview, he would tell a lot of funny stories, and he would say, "Don't write that! It's just a joke!!!!" A man so positive in his outlook on life.
An Extraordinary Inspiration
« You are an Extraordinary example and Inspiration to us all. Thank you for your eternal youth, your openness to life, your constant prayer", stressed Bro Mario Houle, Provincial, on his Centenary three years ago.
The experienced Aircraft Pilot was also greeted on this occasion by Bro Denis Béland, Chaplain of the Community : "Your joy was great to welcome a Confrere into your cockpit to allow him to admire from above the wonders from below, to say with the Psalmist: "How great are your works, Lord". In your life you have had another compass, the Gospel. Now you have left the Handlebars of your plane to take your second Spiritual Handlebars, your Rosary, which you shoot three times a day."
Find the article on his 100 years
https://www.lamennais.org/doyen-et-centenaire-f-roger-leblanc-pilote-chevronne-a-fete-ses-100-ans/
Thanks to Bros Mario HOULE and Claude BEAUCHESNE and M. François BOUTIN, Archivist of Jean de la Mennais Province – Canada-USA-Mexico.
Two more Centenarians
Happy Birthday to Bro Luc FRENETTE of the Atkinson Community in Saint-Romuald, Quebec, Canada on December 16th: 100 years!
Bro Roland CHEVALIER, of the Residence De-La-Salle Community, Quebec, Canada, died on February 10th. His funeral will take place on March 15th, 2022, the day of his 100th Birthday.
Now, the Deans of the Congregation
Bro Roger LEBLANC, 103, born November 30th, 1918, in Canada, in a Community at Pointe-du-Lac
Bro Luc FRENETTE, 101, December 16th, 1921, in CANADA, in Community in St-Romuald
Bro Emilien DOUCET, 100 years old August 7th, 2022, born August 7th, 1922, in Canada, in Community in Laval, Quebec.
Discover the life of Bro René-Maurice ALLORY: 103 years of Adventure! He was born in Saint-Servan -Ille-et-Vilaine, France- on October 29th, 1884, died in Josselin on January 14th, 1988, at the age of 103, 87 of which had spent time in the Institute.
Ce dernier était né à Saint-Servan -Ille-et-Vilaine, France- le 29 octobre 1884, décédé à Josselin le 14 janvier 1988, à l'âge de 103 ans dont 87 passés dans l'Institut.