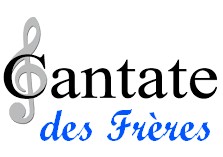 Unpublished! A musical work entitled the «Cantate des Frères» written for Solo singers, Choir and Instrumental ensemble is being created in Malestroit, at St Julien Secondary School, by the Psallette of Malestroit. Conceived as a tribute to the action led by Jean-Marie de la Mennais and the Brothers for 200 years, it wants to be a Birthday gift.
"We are pleased to share this with you at the closure of the Bicentenary and at the end of this Mennaisian Week" said Isabelle Gergaud, Pastoral Assistant and Communications Officer at St Julien School of Malestroit."
Two excerpts were broadcast during the Mennaisian Week in the school yard for all our students.
With the adults, we proposed a beautiful sharing of Father de la Mennais and the history of our College.
Young people were well involved in the proposals. A very good Mennaisian week.
And now we are in the Advent Season once again beautiful things to live this year with the theme: "Sowing joy".
"As we are called to cross the Atlantic
in God's corsairs, and found schools
The work of God will never lack Apostles.
Brothers, you have no more talent than others
But blessed are you, who come in the name of the Lord!"
Excerpt from the text of the Cantate. Etienne Mahieux
Marc Huck, in charge of the Malestroit Psallette, addressed the Brothers:
"Dear Brothers,
It is a great joy for us to send you two musical excerpts from the Cantate des Frères, commissioned by our friends Etienne Mahieux and Jean-René André.
This creation should have been given last May and on November 28, but health realities had decided differently.
Unable to present it to the public by then, we propose you listen to it in its version recorded at Saint Gilles Church of Malestroit.
I thank my colleagues from the Psallette, Lucette Pouteau, Jérôme Desprez and Michel Jézo, who prepared the students with me for the interpretation of this work.
Hoping to see this project succeed!
Marc Huck
Listen here to 2 excerpts
Contact : http://www.collegestjulien.com
The Cantate will be probably played in the Chapel of th Mother House of Ploërmel, in 2021, according to the health realities.