LARANTUKA
Biara La Mennais, BPK
Lorong Yaspensel Weri
86218 LARANTUKA
FLORES
C: brlamennais@gmail.com
YOGYAKARTA
Wisma La Mennais
Jalan Getsemani N° 213
Senggkan Condongcatur, Depok, Sleman
92231 YOGYAKARTA
C stefbpk@yahoo.co.id
---
In 1994, the General Chapter urged the Brothers to look for new fields and new Mennaisian life styles.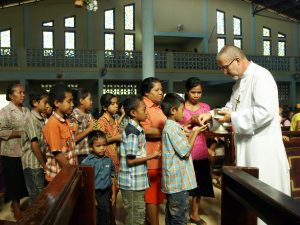 On the 2nd January 2000, four Brothers ( 2 from Spain and 2 from France), left Rome for the Island of Florès, at Larantuka, Indonesia. With the help of the local church, of the Bishop and of other religious communities, they started an adventure, braving the maze of administrative order, as well as the intricacies of the language and customs of their adopted country.
In December 2002, the sudden death of Bro. Nicolas Mediavilla is a serious trial for the new community. In 2003, the administration of Darius Catholic College was entrusted to the Brothers till 2006.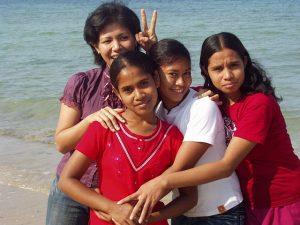 A few years later, the Brothers founded the Pusat La Mennais, a Training Centre offering computer, mechanics, sewing and fishing courses. Progressively new buildings appeared and now the activities are mainly, computer, sewing and English courses.
A pre-Postulate is also open to welcome young candidates for vocational research. These young ones live here for 2 years and follow the formation courses of the Waibalun religious Institute.
A second community is opened at Yogyakarta in 2010. It welcomes the Postulants and the Novices. The first Indonesian Brothers pronounced their vows in 2011.Then the Scolastics pursued their formation in Manila, Philippines.
2014 : new important step for the mission. A new Primary school SDK Mennais was built in 2014 at Larantuka. It was opened in 2015 .This school continues its development to reach the status of a six-year full P School.