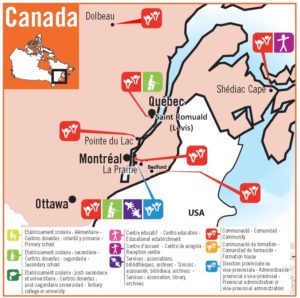 Province Jean de la Mennais
www.provincejdlm.com
Towns: Bedford – Dolbeau-Mistassini – La Prairie – Montréal – Pointe-du-Lac (Trois-Rivières) – Saint-Romuald (Lévis) – Shediac Cape.
BEDFORD
12, rue Demers,
Bedford, QC
JOJ 1A0
C : brudergillespq@gmail.com
DOLBEAU-MISTASSINI
670, rue des Érables
DOLBEAU-MISTASSINI
Québec G8L 1B7
C : marcellinper@hotmail.ca
LA PRAIRIE
Administration Provinciale
850 Chemin de Sault St Louis
LA PRAIRIE – QUEBEC J5R 1E1 – CANADA
Courriel : mariocourrier@hotmail.com

Maison mère
870, Chemin de Saint-Jean
La Prairie QC J5R 2L5
C : lacroixh@jdlm.qc.ca
Collège Jean de la Mennais
870, chemin de Saint-Jean
La Prairie (Qc) J5R 2L5
C : administration@jeandelamennais.qc.ca

Terre Sans Frontières
W: www.terresansfrontieres.ca
MONTRÉAL
Brébeuf
5325, rue Brébeuf
MONTRÉAL Québec H2J 3L8
C : michelgraveldga@hotmail.com
POINTE-DU-LAC (Trois-Rivières)
Maison Saint-Joseph
501, rue des Frères enseignants
TROIS-RIVIÈRES Québec G9B 6J1
C : marcellafrance38@yahoo.ca
SAINT-ROMUALD (Lévis)
Maison Atkinson
20, rue du Juvénat
LEVIS Québec G6W 7X2
C : mauricestlaurent@yahoo.com
Maison Etchemin
50, rue du Juvénat
LEVIS Québec G6W 7X2
Juvénat Notre Dame du Saint-Laurent
30, rue du Juvénat
LEVIS Québec G6W 7X2
C: juvenat@jnd.qc.ca
SHEDIAC CAPE
Le Village des Sources
C.P. 5061 – 3466, route 134
Shédiac N.-B. E4P 8T8
C : leviboudreau@mail.com
---
Since 1886, when the French Brothers, worried about Jules Ferry's political and school orientations, looked for a host country and opted for Canada, the FIC Canadian Province wrote interesting pages of its history.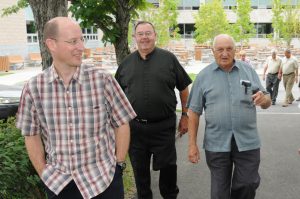 Development and missionary commitments.
In 1904, the Canadian Brothers were already about fifty. They received a new reinforcement from France (more than 100 Brothers and Novices). The local recruitment is prosperous. The Parishes priests gladly requested for the Brothers: the Province is covered with catholic schools.
Following the example of their French confreres, the Canadian Brothers, in their turn, became missionaries.
They established new communities in the United States, strengthened the workforce in  Haiti and Egypt, and especially, from 1926, went to Uganda, then to Kenya ( 1931 ), to Tanzania ( 1948 ) and finally to Japan ( 1951 ). The members of the Canadian Provinces exceeded, in 1954, 1000 Brothers and more than 100 Novices.
Despite the crisis, a new missionary impetus.
The1960s and the post Vatican II Council trigger the "Quiet Revolution ". A deep crisis shook the society; the school system in Quebec was totally restructured. The Brothers had to abandon their schools to join new state "multi-purpose schools".  A large number of Brothers left the congregation, but the Province continued its missionary effort: 1968, Rwanda and Burundi;  takingin charge the mission in Seychelles Islands ; 1969, Congo-Zaïre; 1987, the Philippines.
In 1980, the Brothers are 436 and in 1996, less than 300.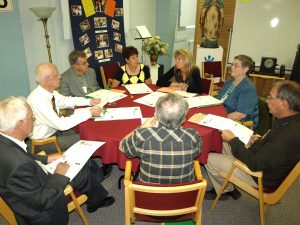 Today

In Quebec, two schools are still living from the Mennaisian spirit, while there is a dynamic institutional succession: the Collège Jean de la Mennais de La Prairie, and the Juvénat Notre-Dame de Saint-Romuald (Lévis). The laity are already fully in charge of management and administration, and will become owners of the premises in 2026.
Several Brothers continued to commit themselves in the field of education, in the service of the young people with academic difficulties or in diocesan and parochial pastoral ministry. They support financially the Saint John-Paul II District of Congo DRC – RWANDA.
« Terre Sans Frontières", an NGO founded by the FIC, is very active and supports the Brothers' African works as well as the other projects in the field of education and of development. Another work carried out by the Brothers, "Secours-Missions", makes a great difference in the daily lives of their African confreres by supporting micro-projects for schools and training.
Like the other congregations involved in education, the Brothers of Christian Instruction wonder about their future in Quebec and in New Brunswick, but can rejoice at the promises and at the fruits of their missionary foundations in Africa and in Asia. There are still about 100 Brothers in the Province, but with a rather respectacle age.