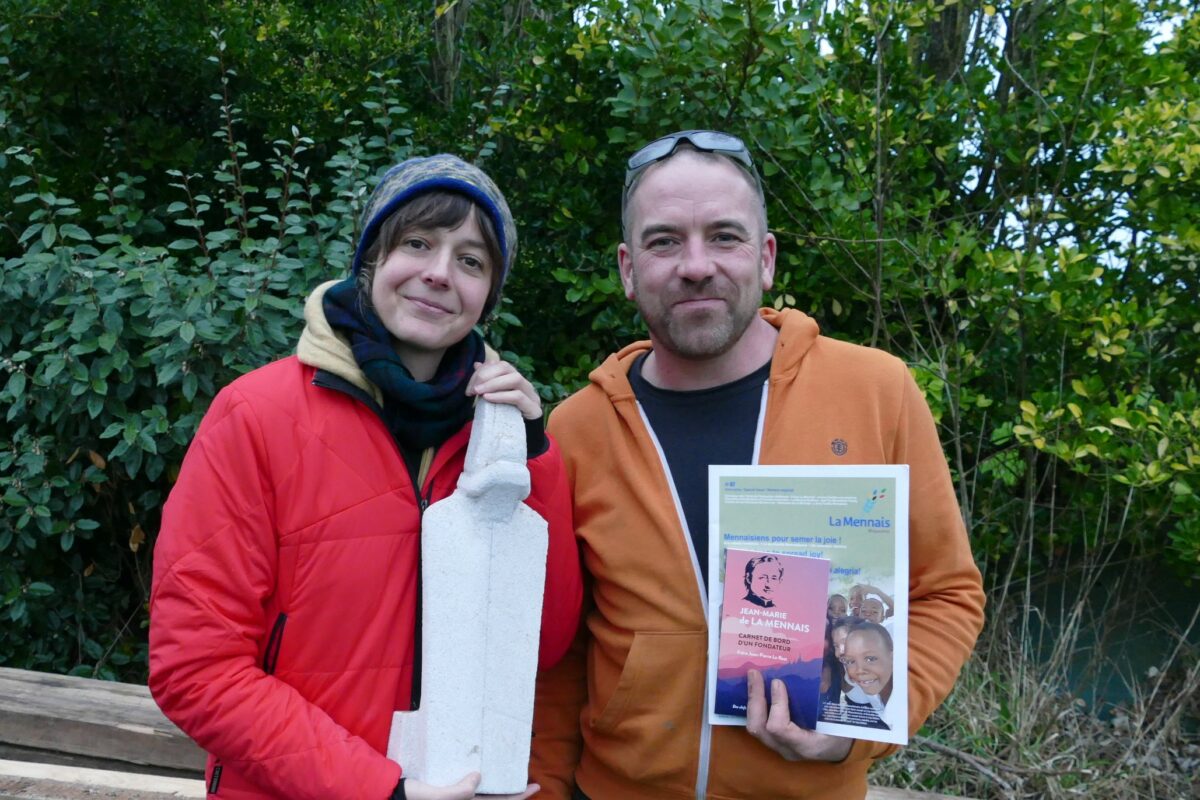 Juliette Le Roux carrying the model of the cellular concrete statue and Xavier Tanguy discovering publications about Jean-Marie de la Mennais.
«Making this statue of Jean-Marie de la Mennais was a real adventure» commented with enthusiasm Xavier Tanguy, Sculptor living in Sibiril and Author of 8 statues located in the Vallée des Saints in Carnoët, in Central Brittany, France. With the help of illustrator Juliette Le Roux, they had a month to give birth to this unique creation, during the lockdown period of April-May 2021. Without any particular information about the character, they carried out research and very quickly oriented their work towards strong elements: a bird symbol of travel and International that carries Jean-Marie de la Mennais Founder of Schools that themselves carry children. An account of the birth of an exceptional work.
What we liked when we started our research, said Xavier Tanguy, was to see that Jean-Marie de la Mennais had a relationship with the sea, through his father shipowner in St-Malo and that he was a creator of schools. I immediately thought of a bird. This bird, a bassan madman, is much larger in size than Jean-Marie de la Mennais who puts his arms around it and is transformed by it. He wears it on his back."
Mystery and Magic
At the start of the work, when the 22-ton rough block of pink granite was delivered from Perros-Guirec, the sculptor immediately noticed a thread in the stone, that is to say a crack that could prevent the statue from being made. It was necessary to adapt and in the end the statue weighed 11 tons for a height of more than 5 meters. And the effects of pink granite that is softer than classic granite gave rise to a wide variety of colours with chiselling, polishing and bursting».
How not then to speak of the blue of the eyes of the bird? "This stone was stored at the workshop, probably from Latin America or Africa," said Xavier Tanguy. That's the blue we wanted. Blue, pink, black: we trusted coincidences."
From the beginning, the common inspiration having been adjusted between the two artists, Juliette Le Roux designed multiple drawings before making a clay model, then a representation in cellular concrete, on a scale of 1/10th. This is what allowed us to execute the dimensions in real size.
"Holy? We validate it as such!"
We did not want to represent a character already made elsewhere; it did not speak to us. We wanted to give him a mystery side, to recreate a legend and magic. Only his face is represented. This face is also Jean-Marie de la Mennais who has dreamed of travel since childhood», continues Juliette Le Roux.
Making such a work requires a lot of energy, explains the illustrator, assistant and collaborator. All this is very beautiful. Beings arise from the hand of the Sculptors."
At the feet of the statue, under the feet of the bird, we read the mention of Saint John Mary of the Mennais. Saint, really? The two artists are surprised when they learn during the exchange here that he is not declared holy by the Church for the moment even if steps have been underway for a long time. "We didn't know that. But we validated it as such!" What is important is that children especially can imagine it from there, that its history is a source of inspiration.
We wanted to contribute to the continuation of La Mennais for today, with our version. We are pleased to see that these realities continue with Schools in other Countries. With a statue, we added symbols."
An impetus to the future
Symbol again, the statue looks towards the sea and the sunset and the bird rises like a Church Bell Tower, installed at the top on arrival at the site. "This gives it an impetus towards the future and it is oriented towards Cléder," smiles Xavier Tanguy, "where the Mennais Brothers taught and very close to Sibiril where I am based."
In particular, the Principal patron who financed the statue – at a cost of 15,000 euros – made no contact with the two artists, either before or since, and they do not know his identity at all except that he lives in New Zealand. Xavier Tanguy suggests, "Maybe he's a former student of La Mennais? I don't know." The site of the Valley of the Saints states that there were several Donors and mentions thanks to the Bergé family.
Xavier Tanguy is now involved in the takeover of a Farm in León at the same time as Pizza production Projects. After having made 8 statues in the Valley of the Saints – a site that now totals 130 creations on site – the sculpture creation is not abandoned for him but will no longer be as active for the moment. As for Juliette Le Roux, she continues her numerous fresco creations with children and young people in Schools, her drawings in books and artistic animations.
On May 31st 2021, the statue was born in its final form. While ,during the entire work site it was lying down, it was lifted up towards the sky for the first time and… for eternity!
Practice
Works of Xavier Tanguy – Follow-up as creator or assistant of the statues of the saints: Brandan – Brendan, Guen, Gwenn, Konan – Conan, Nikodem – Nicodemus, Tudeg – Tudec, Uzeg – Uzec, Jean-Marie de la Mennais
Works by Juliette Le Roux http://www.julietteleroux.com/
La Vallée des Saints – Quenequillec, Carnoët, Côtes d'Armor (22)