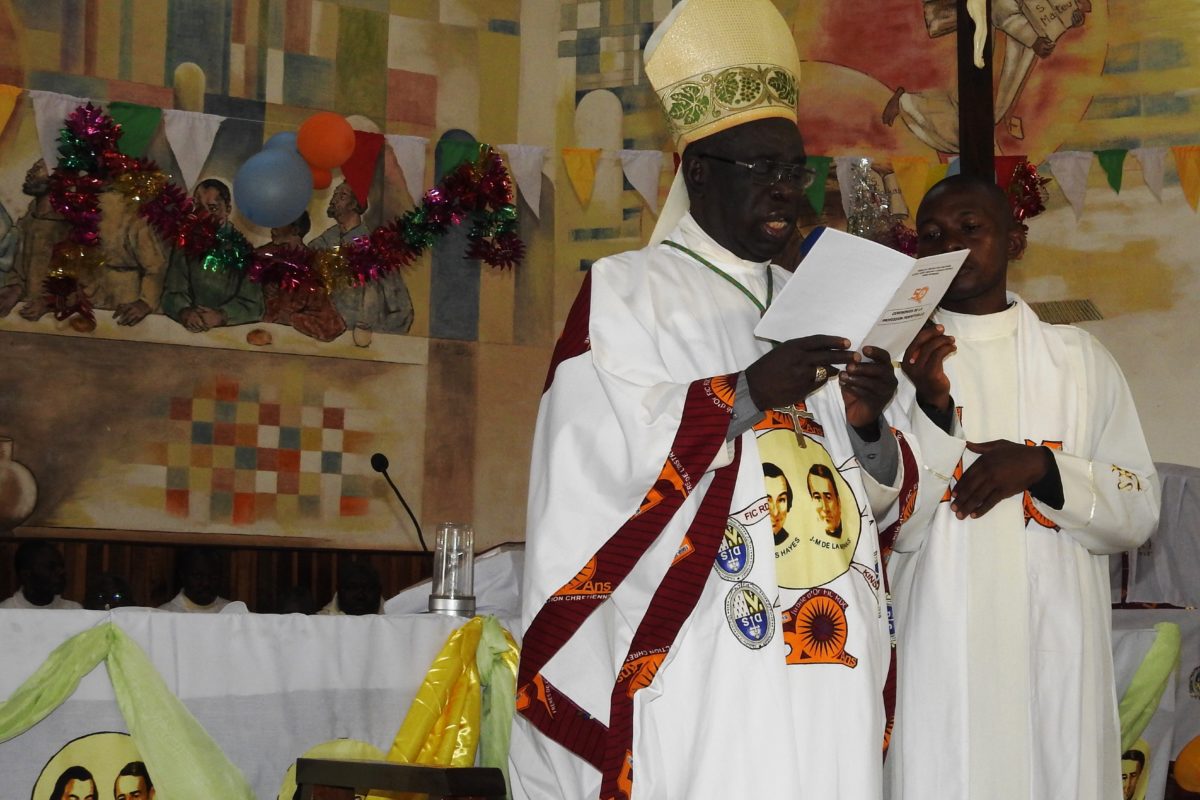 His Grace Archbishop Richard Domba presided over the celebration of the 50th anniversary. Beautiful liturgical garments were made for this anniversary.
What a feast! On 23rd  November, St John Paul II District celebrated at Dungu the 50th anniversary of the arrival of the Brothers of Christian Instruction in the DRC  Congo.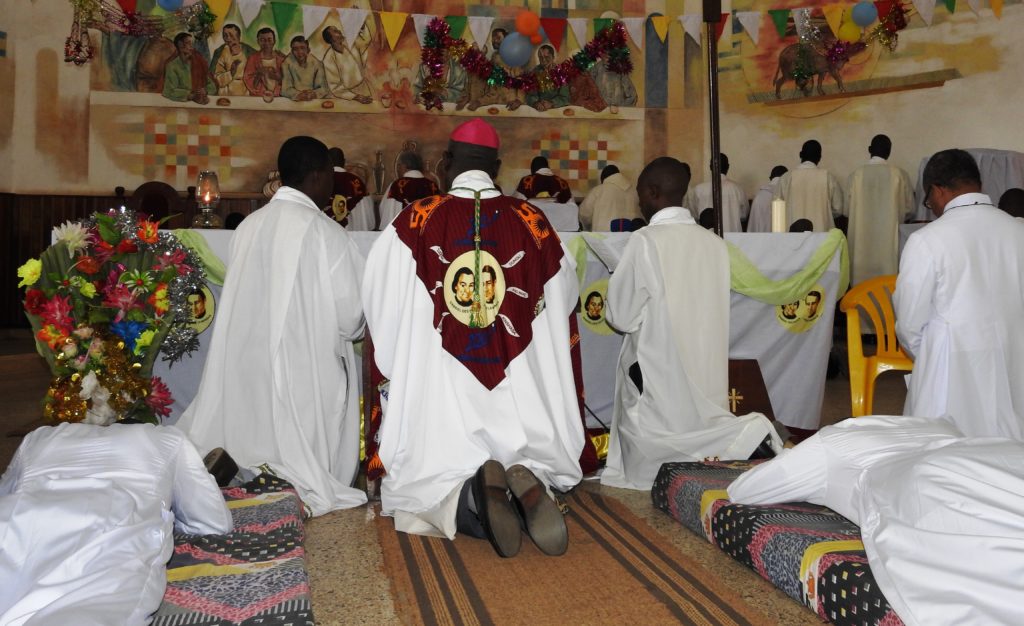 A Mass of Thanksgiving during which two Brothers Justin LOKANA and Bruno DJUKALEMA pronounced their perpetual religious Vows was presided at the Cathedral by His Grace Richard DOMBA, the Archbishop of Dungu-Doruma, in the presence of  Brothers Hervé ZAMOR, Superior General of the Brothers, Jean-Paul PEUZE, 1st Assistant, Mario HOULE, Provincial of Canada-USA-Mexico, Brothers of St John Paul II District – Congo DRC – Rwanda and hundreds of invited guests.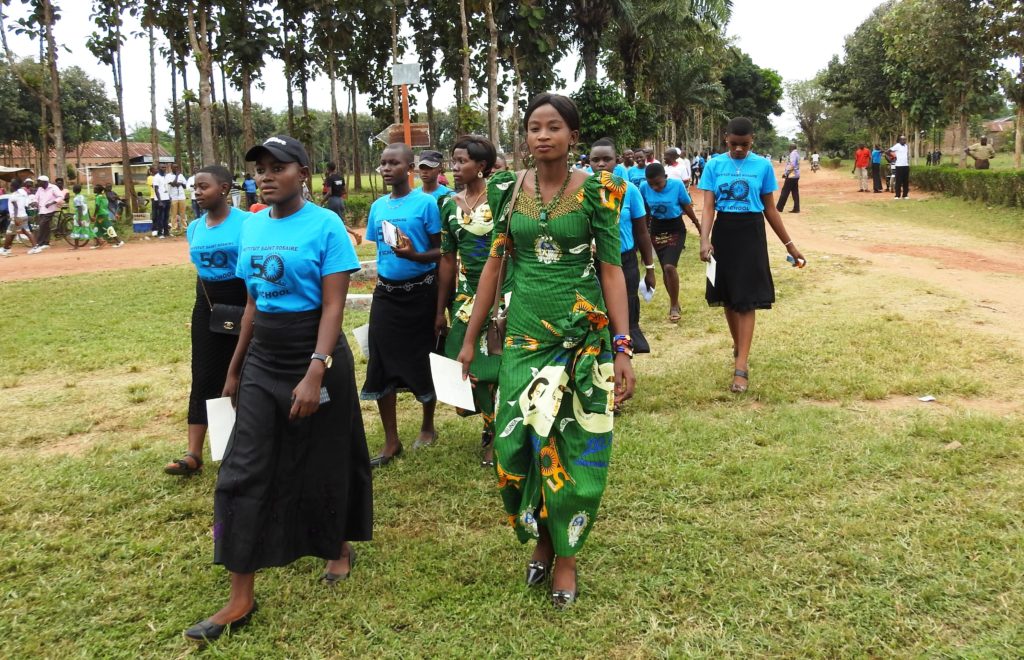 From 18th  to 22nd  November sporting, cultural and spiritual activities were organised and held at  Dungu.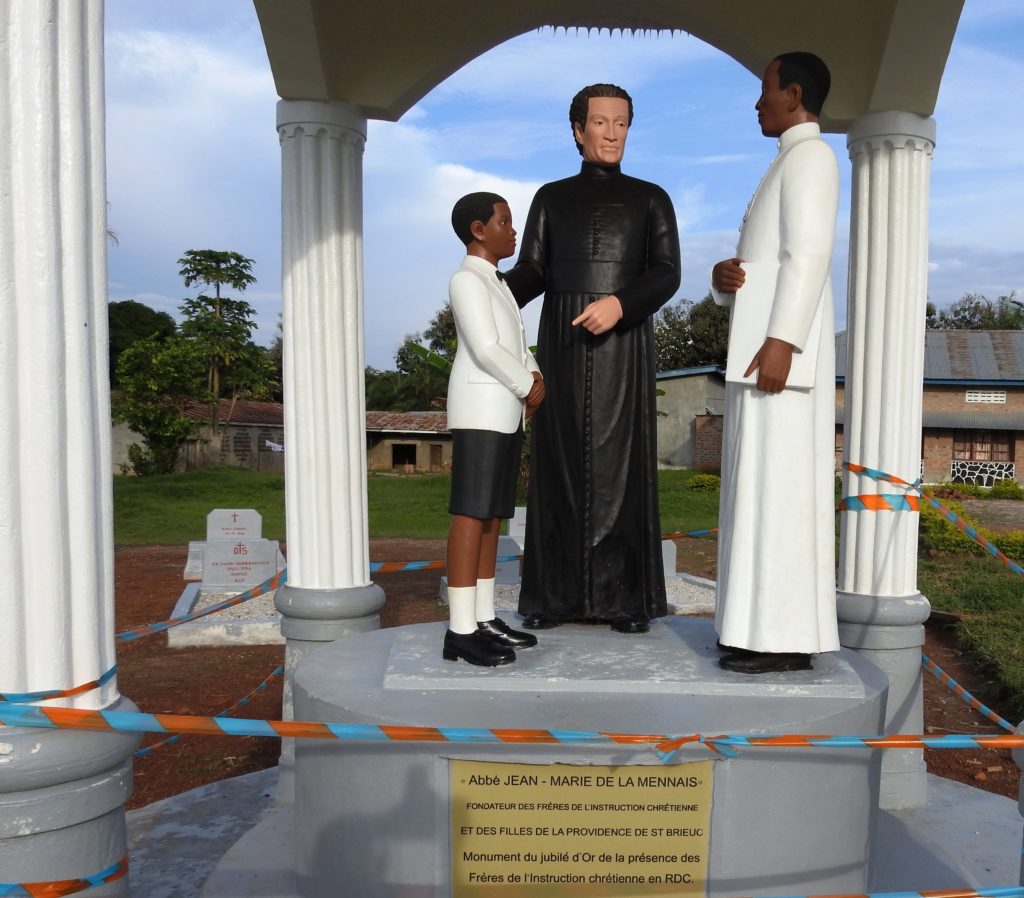 A monument, a set of three characters in honour of Jean-Marie de la Mennais, surrounded by a Brother and a young man was blessed.
All these events were organised by a Bicentenary team chaired by Brother Pascal MBOLINGABA, the Visitor.
"In this year 2019 which marks the bicentenary of our Congregation, how not to live in thanksgiving and joy today", commented Bro. Hervé Zamor, Superior General, when we celebrate the 50th anniversary of the presence of the Brothers of Christian Instruction in the Democratic Republic of Congo, when we welcome the perpetual Vows of our two Brothers Justin LOKANA and Bruno DJUKALEMA and when we commemorate our Institute founded by Jean-Marie de la Mennais and Gabriel Deshayes, two hundred years ago.
1969 – 2019, it's been 50 years!
50 years ago when four Brothers of Christian Instruction, Raymond Hamelin, Richard Doyle, Albert Simard and Jean-Claude Hould – the latter is currently a priest and is with us for this commemoration-, arrived in the beautiful and great country of the Democratic Republic of Congo. The grain of wheat thrown into the ground by these four valiant pioneers has sprouted, grown and brought forth beautiful fruits and promises many more.
The golden jubilee we are celebrating today is the fruit of an uninterrupted chain of good and faithful workers who have managed to pass the shovel, the machete, the wheelbarrow to the rhythm of dedication, forgetfulness of self, passion, humility and a sense of responsibility in order to carry out the mission entrusted to them: to instruct, educate and evangelise in one act.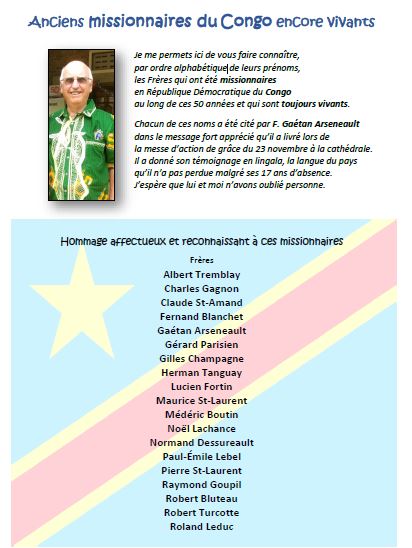 For our Congregation, this golden jubilee is above all an act of remembrance, gratitude and thanksgiving for the 50 years that Brothers have given their best to make Jesus Christ known and loved; have endeavoured to educate the Congolese man in his totality and have endeavoured to offer a quality education to the children and young people of the DRC!
This golden jubilee also intends to celebrate today those humble workers, Mennaisian Brothers and Laity, who aim, in the classroom, on the sports field, in the lesson of catechesis or mathematics, in the animation of groups of young people, in a time of recollection, in a theatrical performance, a single objective: to make the students entrusted to them, not scientists, but saints.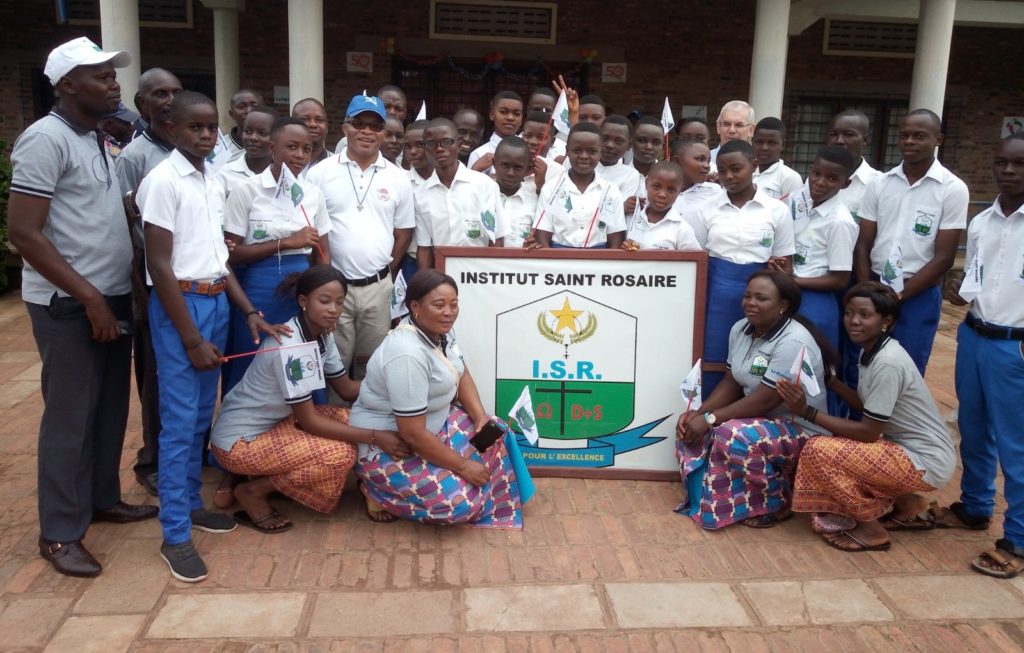 This golden jubilee finally aims at opening a window on the future. Young Congolese hear the Lord's call to dedicate their lives to the service of this beautiful and noble mission: to proclaim Jesus Christ through education. The new wine is there! The new wineskins are also there. New ardour, new methods, new expressions!
Now, time has come for our DRC Brothers to rise and go to mission. Life belongs to those who dare to set out for the cause of God alone. Fruitfulness gives an appointment to those who leave everything and go to proclaim Jesus Christ to children and young people, following the example of our first missionary Brothers."
CONGRATULATIONS TO ST JOHN PAUL II DISTRICT FOR THIS BEAUTIFUL FESTIVAL!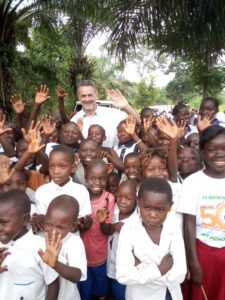 F. Mario HOULE, Provincial Canada-USA-Mexique partage sa Lettre aux Frères et à la Famille Mennaisienne consacrée au 50ème anniversaire des FIC au Congo RDC.