On Saturday, 29th December 2018, three Brothers, namely, Martin SINFOIKI, Pascal DJIDAME and Victor SAMBIANI made their perpetual vows, and two Brothers by the names of Alexis KOMBATE and Jean-Baptiste N'DIAYE celebrated their Silver Jubilee in religious life in the Parish Church of Saint Monique de Kombonloaga, Dapaong, Togo.
In his homily, His Lordship Dominique GUIGBILE, Bishop of the Diocese of Dapaong who presided over the celebration, surrounded by several priests, reminded those were going to make their perpetual profession:
"The call of the Lord to follow him is a free act from him, and those whom he calls are not worthy by their own merit (…). They will be able to count on the prayer and support of their parents, relatives, friends and confreres in their journey following Christ, but above all they will have to rely on the support of the Lord through their personal relationship with him. "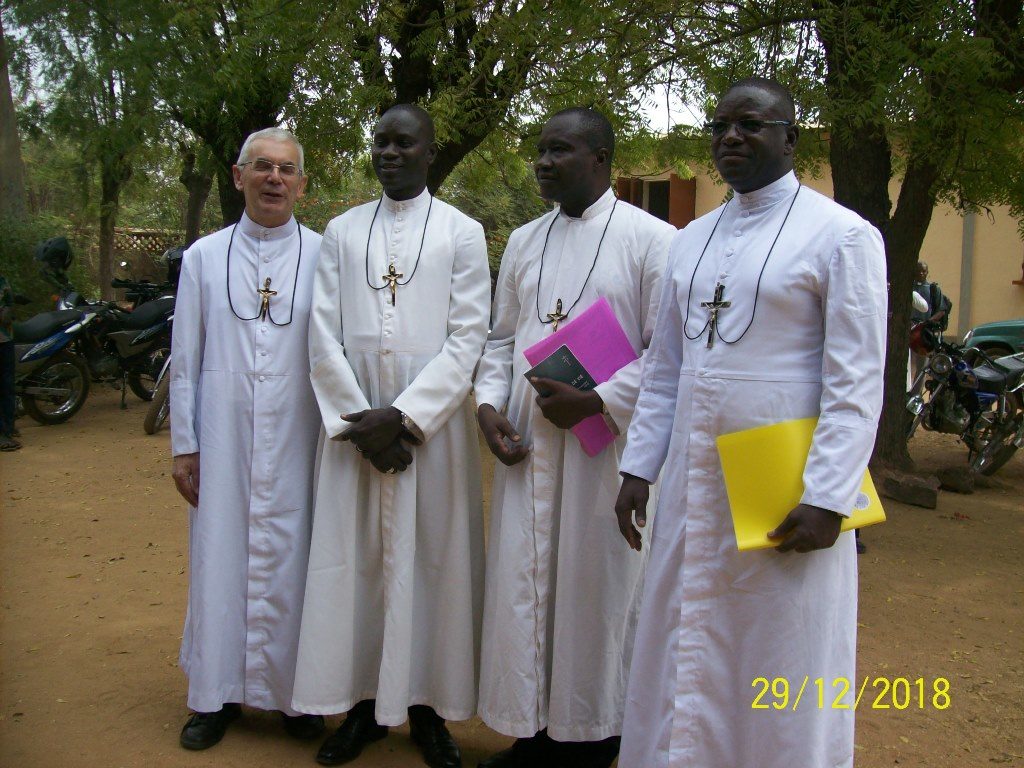 From left to right, Bros Jean-Paul Peuzé, Jean-Baptiste N'Diaye, Alexis Kombate, Jean de la Croix Lare
The homily over, each of the three Brothers, candle in hand, made his final commitment to the Lord before the delegate of the Superior General, Brother Jean Paul PEUZE, first Assistant general and of the congregation.
This was followed by the renewal of vows by the two Jubilarians, Brothers Alexis KOMBATE and Jean-Baptiste N'DIAYE who received a solemn blessing from the main celebrant.
It was a prayerful ceremony at the end of which there was a popular celebration in the Parish courtyard in an atmosphere of joy and rejoicing with songs and dances to the sound of traditional tam-tams.
Brother Gilbert GBANYOBEDJOA