The celebrations of the perpetual vows and the renewal of vows were marked on the 2nd January 2017 with a concelebrated Mass presided by His Eminence Emmanuel Cardinal Wamala. He congratulated the Brothers of  Christian Instruction for their significant contribution in the field of education in the Church and the country respectively.
Twelve Brothers pronounced their perpetual vows. They are Bro. Alex KIDDAWALIME, Joseph KIIZA, Joseph KITENGEJJA, John Paul KITIMBO, Bernard MUSIIME, Fred NATUKUNDA, Simon Pierre NSUBUGA, John Bosco SSEBITOSI, Stephen SSEMANDA, Noah SSERUGGA, Peter TAMALE SSALI, Innocent TWINOMUGISHA.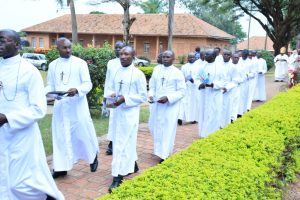 Several Brothers celebrated their Jubilees in Religious Life, namely, Joseph Tinkasimire, Diamond jubilee, Peter Kazekulya the  Provincial Superior, Golden jubilee, Casio Aizire and Quirino Kankonge , Silver jubilee.
The President's first son and Commander of Special Forces, Major General Muhoozi Kainerugaba, an Old Boy of Saint Mary's College, Kisubi, was one of the distinguished guests, who praised the Brothers of Christian Instruction for their great and holistic educational services.
Photos and information by Bro Francis Kiggundu