Reading online the Document from Bro Hervé Zamor «In Mennaisian Family mode», listen to the Song from the young Postulants of Indonesia, watch the photos of the Closure of the Bicentenary in Kisubi,  Uganda, and those of the School "Bro Odile Joseph"  Les Cayes in Haiti, the video of the testimonies of young people and families in Canada, the one made at the San Damián Center in Argentina: so many possibilities in this World Tour of Schools, Communities, Brothers and Laity.
La Mennais Click Infos is New ! It wants to inform, broadcast and connect the 5 Continents. Children, Young people, Educational teams of Schools and Centres, Families, Brothers and Communities, Mennaisian Fraternities: all are concerned and are recipients of this Family union trait.
Cultivating bonds and fostering new ones, continuing to sow Joy and Serving life in the work of Education: this is the guiding principle of this New tool.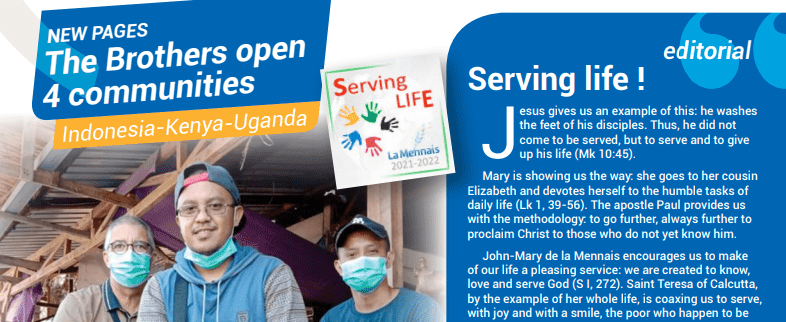 Let us be led:
By the Brothers Andi and Philippe arrived in their New home in Kupang, a new Community opened in Indonesia. "The first evening they slept on the spot after buying two Mattresses."

On the site of  Saint Padre Pio School of TIMAU-NANYUKI in Kenya and that of the new Lycée St François d'Assise in Savenay, France.

With the 20 Mennaisian Young and adults – JAM – from Lomé-Aneho sector in Togo and the team of 15 Spanish youth from Nanclares de la Oca, Alava. "The bond created with the young refugees was strong, it was an unforgettable experience," said Blanca.

Discovering the first Mennaisian layman: Jean-Joseph Querret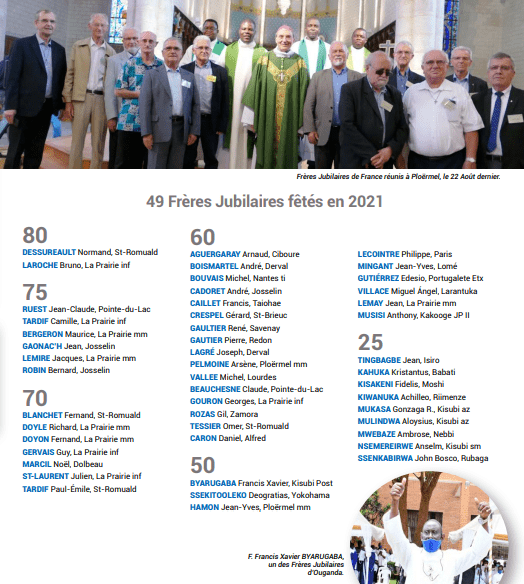 Greeting the 49 Jubilarian Brothers

Singing "Your hands to serve" and Praying to St Joseph, alone or with others.

See you every 3 months in La Mennais Click Infos.
La Mennais Magazine on its part is becoming annual and you will receive the next issue at the end of the year while the website www.lamennais.org  continues its development based on news and numerous online resources.

Practical. If you have not received La Mennais Click Information directly into your personal email address, please contact: secretariat@lamennais.org
Read here in FR
La Mennais Click Infos 10 2021 N° 1 es.pdf – Google Drive
Read here in ENG
Read here in SPA