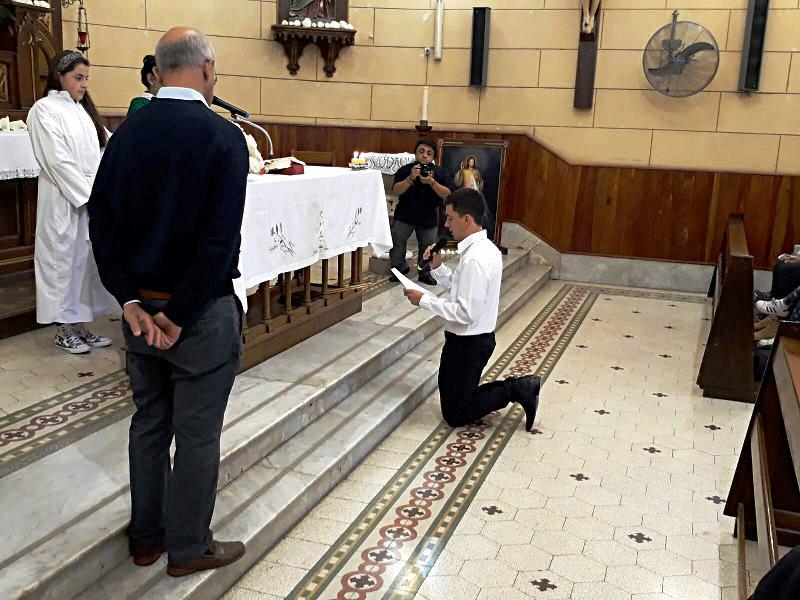 Nicolas, a former pupil at the Institute of Teodelina Fernández de Alvear in Villa Gobernador Gálvez entered the Postulate on the 20th August 2017. This took place in a ceremony in the chapel of the School. Nicolas is a son to Viviana and Ariel. He has one sister called Camilia. We can also say that he is "Teo'son ", because many feel part of his formation process.
A large number of those who participated in this ceremony were filled with emotions. The celebration was very active and everybody participated; present was a group of young people who had come to live a vocations' day, Nicolas's family, the local Mennaisian Family (parents, young people, educators) and the Capucine Sisters as well as Father Fernando a Capuchin friar.
The postulate is a stage of formation whose object is to help a young person to discern and deepen the vocation to which he feels he is called.
In this case, the call is to be a Mennaisian Brother, a Christian educator  a midst children and young people, in the footsteps of  Jesus, Master and Shepherd.
Bro Guillermo received Nicolas's request in the name of the Congregation.
Let us give thanks to God the Father for the answer that Nicolas reserved for this call and let us implore the Author of all good so that he may continue to call others to serve children and young people as Mennaisian Brothers.